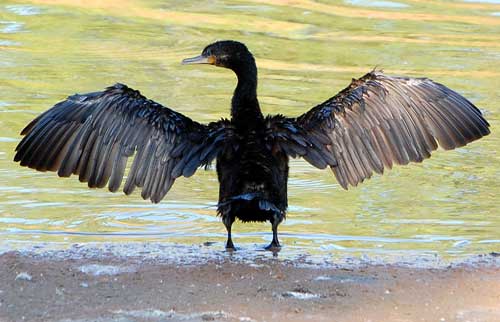 This Neotropic (Olivaceous) Cormorant is in the process of drying its flight feathers and was observed at Gilbert Water Ranch, Maricopa Co., Arizona in Aug. 2009.
Sponsored Links:
In recent years this smaller, trimmer cormorant has become a resident of more and more ponds in the lower Sonoran Desert. They appear to do well in artificial ponds and wetlands in the semi-urban environment, particularily those designed for secondary wastewater treatment. Unlike most birds, cormorant feathers get wet when they dive for fish, their only food, and so they must dry them out before they can fly efficiently. Thus, after fishing, cormorants must perch on a branch or log with their wings outstretched in the sunshine.
The bill in particular is thinner than that of the similar-looking Double-crested Cormorant (Phalacrocorax auritus). There is a white 'V' at the base of the bill outlining an orange-brown skin patch. The feathers of the Neotropic Cormorant have a greenish sheen visible depending on the angle of incident light.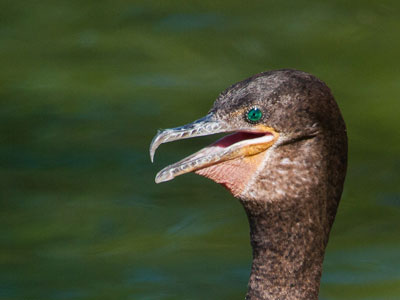 Photo from Phoenix, April 2012 by Allan Ostling.
Year-round Resident - Partial Migration - less common during winter months
More Information: