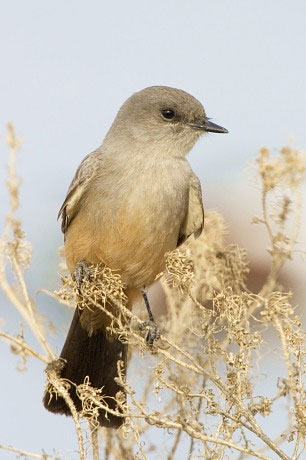 This Say's Phoebe was photographed by Robert Shantz at Whitewater Draw Wildlife area near Elfrida, Arizona.
Unlike most flycatchers in the Sonoran Desert region, this one is more likely to be encountered during the cooler late fall through winter and spring months. During summer most migrate north to the northern United States and western Canada. They are partial to riparian-edges, open pastures, and in urban environments, flood catchment basins. Like most flycatchers, they have an alert, upright posture and hunt by watching for insects flying by, sally out to catch one and then return to the original perch. The brown-yellow shade of the belly is distinctive. They are common at Reach 11 Park in Phoenix from November through May or June.
If you've read many of these web pages you should notice a particular appreciation for insects and entomology. This bird's name strikes a pleasant chord in that vein because it is named after America's first entomologist, Thomas Say!
Year-round Resident - But scarce during hottest summer months
Sponsored Links:
More Information: