Rackensack Canyon and Camp Creek is a stretch of riparian habitat located a short distance northeast of Carefree, Maricopa Co., Arizona. Rackensack Wash crosses the Seven Springs Road (FR-24) about 8 km north of the Bartlet Dam Road turnoff.
Motor vehicle access to upper Camp Creek is limited to lease holders in the cottage enclave along the wooded creek. Foot access along Rackensack Canyon from Seven Springs Road is easy and offers several kilometers up and down canyon to explore. Upper Camp Creek is a gallery riparian woods dominated by willows, cottonwoods and sycamores and is the main area for migrant and riparian birds.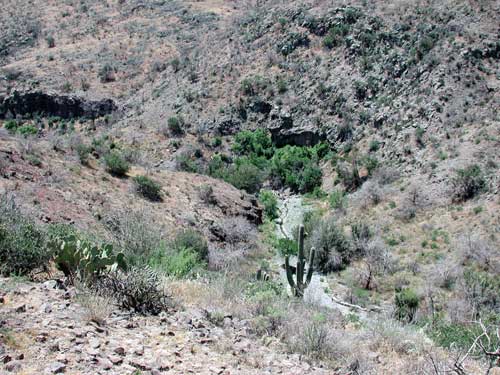 View looking southeast from Seven Springs Road above Rackensack Canyon. Verdant green trees are mostly Red Willow (Salix laevigata). Ash and cottonwood are also present.
Map of Rackensack and Camp Creek, Maricopa Co., Arizona
Camp Creek flows southeast and eventually joins the Verde River. For most of its stretch it is dry most of the year - on the surface that is. Mesquite, Desert Willow and Fremont Cottonwood are indicators of the more-or-less reliable subsurface flow of water.