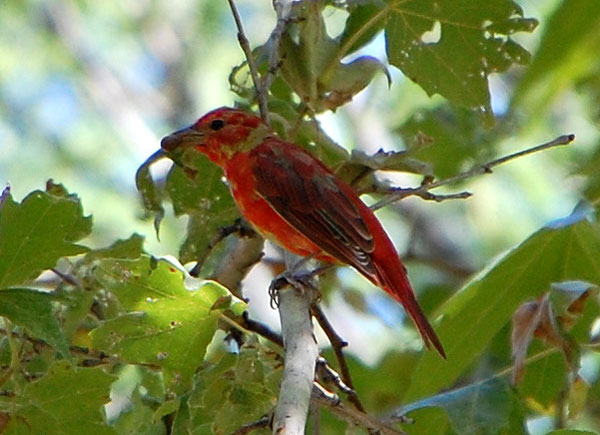 Canyon Grapes, even those that were barely ripe, were quick to be eaten by Summer Tanagers. The mottled patches of yellow on this bird mean it is an immature male. Observed at Coon Creek, Sierra Ancha, Gila Co., Arizona on Aug. 8, 2009.
Sponsored Links:
The Neotropics host many species of colorful tanagers. Three of these tanager species commonly migrate north for the summer and nest in Arizona's sycamore woodlands. Summer Tanagers are very common in the trees along riparian corridors at the lower to middle elevations. They feed on berries and especially insects. Sturdy bills allow them to handle rather large and hard-bodied prey. I once watched a female summer tanager dispatch one after another, a nest-full of mature queen Paper Wasps. Look for all three tanager species from April through September. The rest of the year they spend in warmer parts of Central America.
Hepatic Tanager is also found in Arizona's sycamore canyons, but tends to prefer higher elevation where conifers begin appearing. Hepatic Tanager has a dark bill as opposed to the ivory bill of the Summer Tanager. Also Hepatic Tanager has a darker red color, like a liver and a darker brown ear patch. Male Western Tanager is bright red and yellow and uses mid and upper elevations. All three tanagers have females that are mostly yellowish instead of red. On very rare occasions Scarlet Tanagers show up in Arizona during migration. A Mexican species, the Flame-colored Tanager, has been found several times in sycamore-lined canyons in the mountains of Southeast Arizona.
Summer Resident - Migration to Neotropics for winter months
Thraupidae -- Tanager Family
More Information: