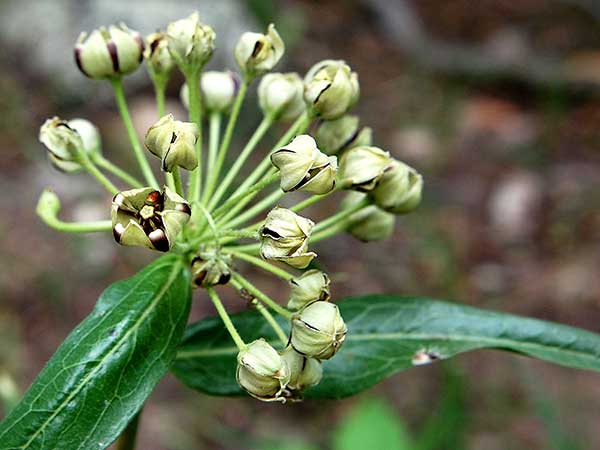 Along Sycamore Creek in the Pine Mountain Wilderness, Yavapai Co., Arizona, USA. 07 June 2009.
Sponsored Links:
FLOWERS: Each stem has one large cluster of striking green-white-purplish flowers arranged in an umbel at top. Blooming late spring into summer.

PERENNIAL HERB: Regrows each spring from an underground root, usually upright, but sometimes decumbent, and less than 1 m tall. Several stems grow together from the underground portion.

LEAVES: Dark green leaves are lance shaped. Leaves and stems exude copious milky sap when broken.

RANGE: Spider Milkweed often grows just up from the main channel, i.e. out of the flood zone. It is uncommon at the lowest elevations of sycamore galleries in Arizona. It also occurs in ponderosa and juniper woodlands.

FRUIT: Each fertilized flower (one to several from each cluster) results in one or a pair of turgid pods ("horns") that point up at maturity and have many, long-haired seeds inside. Green pods also exude milky sap when damaged.

UNARMED. No spines or thorns, however the sap may be irritating or toxic.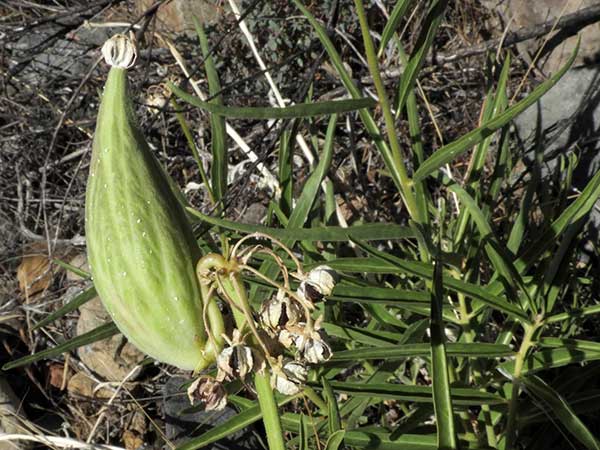 The fruit suggests the name. Near Quail Springs, Mingus Mt., Yavapai Co., Arizona, USA. 21 May 2021.
Asclepiadaceae -- Milkweed Family
More Information:
Sponsored Link: