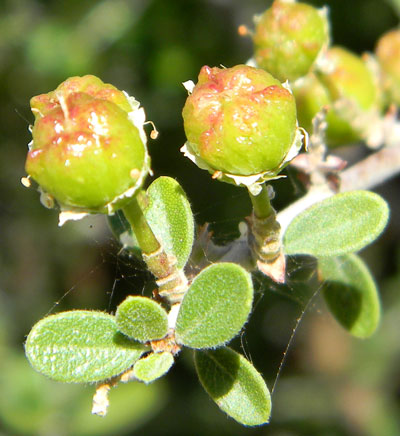 Photographed on a dry ledge adjacent to Sycamore Creek, Mazatzal Mountains, Maricopa Co., Arizona. 16 May 2010.
LEAVES: Oval, evergreen leaves are thick and tough and often have a grayish cast to them.

SHRUB: A medium to large-sized shrub with light gray, tough, intricate branches. Plant regrow readily after brush fires. Typical plants are about two meters tall.

UNARMED. Even without thorns a hiker's attempts to push through will be repulsed by the stiff twigs.

RANGE: Desert Ceanothus grows in the highest elevations of the Sonoran Desert as it merges with chaparral where it is often a dominant plant. In sycamore woodlands it occurs mostly on adjacent slopes, drier than bottomlands.

FRUIT: The fruits become hard, brown capsules as they mature about 8 mm in diameter.

FLOWERS: Blooming in early spring with small white flowers; five petals with narrow attachments to the flower base. They are clumped into many-flowered clusters making the whole shrub very showy.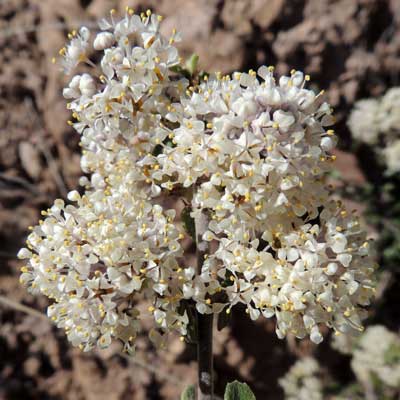 Rhamnaceae -- Buckthorn Family
Sponsored Link:
More Information: