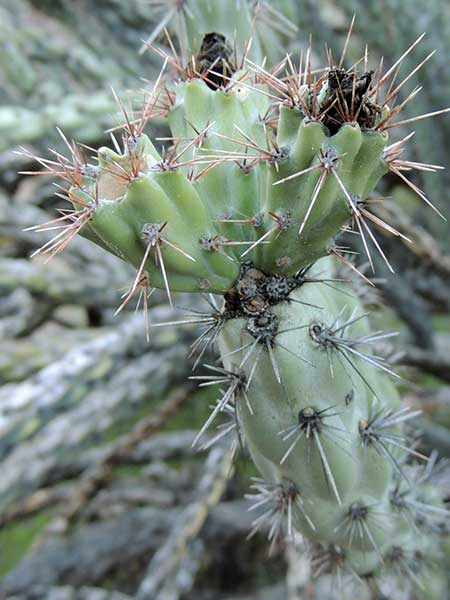 Photographed along Fish Creek, Superstition Mountains, Arizona, USA. 07 Nov. 2018. These developing fruits will soon turn brown and shrivel. Notice spines at the fruit areoles.
Sponsored Links:
JOINTS: The stems are succulent and formed into cylindrical joints mostly less than 30 cm long and 2½ to 5 cm in diameter. The tubercles on the joints are conspicuously raised and elongate.

FRUIT: Mature fruit turns dry and brown and is set with spines as well as glochids.

RANGE: North and east of the Phoenix area this cactus can be found on drier sites within canyons as well as a component of grass and chaparral habitats. Southeast of Mesa and Tucson Staghorn and Cane Chollas are found instead.

SHRUB: Normally a shrub rarely surpassing 2 m tall. Occasionally with a distinct central trunk.

FLOWERS: Numerous petals are variable in color ranging red, yellow, orange or purplish.






SPINES: Up to two dozen per areole, 30 mm long, silvery or tan but turning dark with age.
Cactaceae -- Cactus Family
More Information:
Sponsored Link: