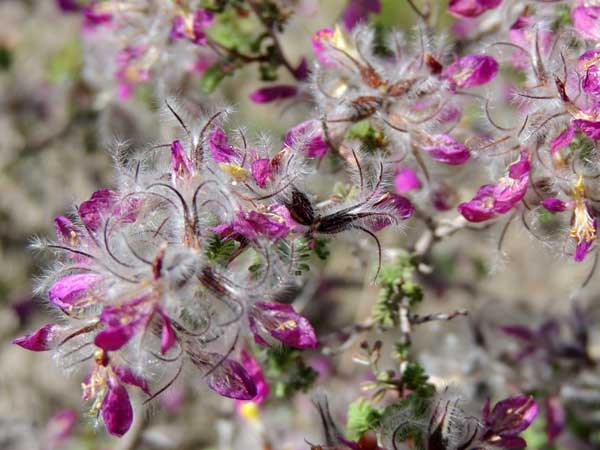 On a rocky slope above Seven Springs, Maricopa Co., Arizona, USA. 22 April 2013.
Sponsored Links:
SHRUB: A weakly woody shrub, often intricately branched, reaching to 1 m or more in height.

FLOWERS: Attractive, pea-like, purple-lavender flowers with a yellow hood petal. The sepals are long and adorned with long silky pubescence. This combined with gracefully arching twigs gives the blooming plant a striking appearance. Blooming in response to rainfall especially late summer and fall.

RANGE: Occurs on rocky slopes out of the deep shade of sycamore canyons and ranges eastward into the Chihuahuan Desert at elevations above 600 m elevation.

LEAVES: Compound leaves have up to a dozen small leaflets. Crushed foliage has strong pine-like aroma.

FRUIT:The small, hairy pods usually contain only a single bean-seed.

UNARMED.
Asteraceae -- Sunflower Family
More Information:
Sponsored Link: