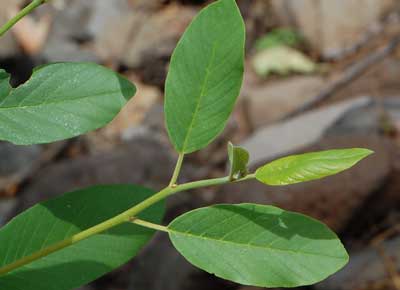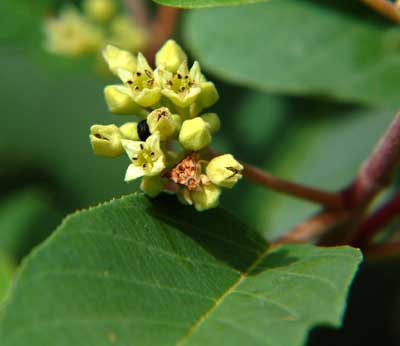 Photographed along Sycamore Creek in the Pine Mountain Wilderness, Yavapai Co., Arizona. June 2009.
LEAVES: Elongate-oval, evergreen leaves resemble those of birch or alder. Alternate on stems. The leaf margins are serrate, sometimes obscurly so, and the whole leaf may curl if the plant is under drought conditions.

SHRUB of SMALL TREE: Evergreen shrub with leaves that may be shed after extreme drought. Mostly from two to four meters tall with multiple branches.

UNARMED. Despite the name, this plant does not have thorns!

RANGE: California Buckthorn tends to occur in shady spots that have a reliable water supply. Thus it is a frequent understory plant within sycamore canyons. Also in chaparral, juniper and pine woodlands through much of the southwestern USA.

FRUIT: Black berries each with a couple of stony seeds are generally too bitter for human consumption.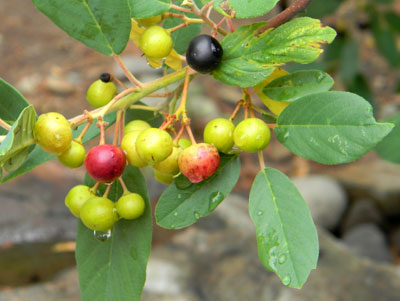 With the summer mosoon well under way the berries turn from green, to ruby red to very black as they ripen. 7 Aug 2010. Photographed at Seven Springs, Maricopa Co., Arizona. California Coffeeberry is another widely used common name.
FLOWERS: Smallish cream to yellow flowers have four, pointed petals and four stamens. Blooming in mid to late spring.
Rhamnaceae -- Buckthorn Family
Sponsored Link:
More Information: