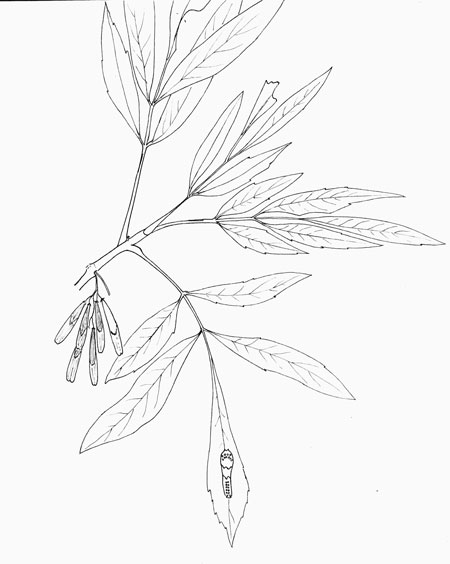 A butterfly caterpillar is shown resting on a leaf at bottom center. It belongs to a Two-tailed Swallowtail, a very large butterfly of Arizona sycamore canyons.
TREE: A medium sized tree with dark gray, often nearly black, fissured bark.

RANGE: This riparian habitat tree is common along the middle and lower elevations of sycamore canyons in Arizona. It ranges to slightly lower, hotter elevations than sycamores. Ash hybrids are frequent shade trees in the hot desert cities.

UNARMED: no thorns

FLOWERS: Dioeceous: male and female flowers appear on separate trees. No petals.



FRUIT: Typical winged ash seeds on female trees are up to 3 cm long and ½ cm wide.

LEAVES: Compound leaves are opposite on the stems and margins are weakly serrate. The petiole and leaves when new have velvety pubescence.
Oleaceae -- Olive Family
More Information: