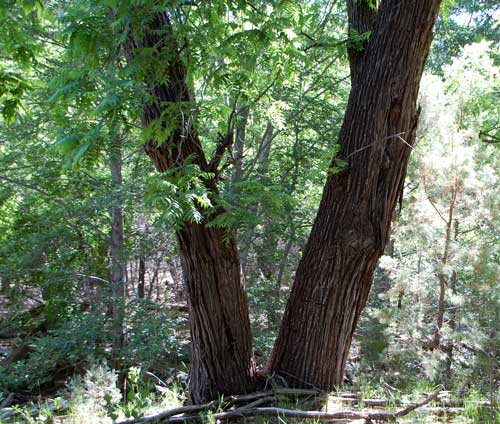 This pair of mature Arizona Walnuts were growing along Sycamore Creek in the Pine Mountain Wilderness, Yavapai Co., Arizona. June 2009.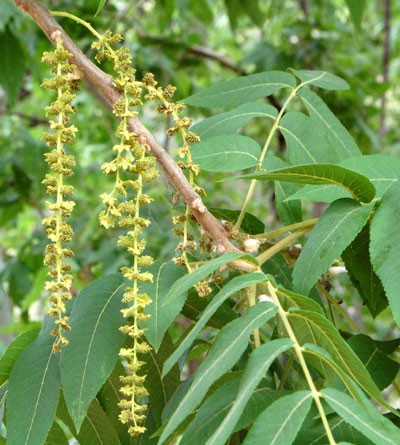 Photographed along Sycamore Creek in the western foothills of the Mazatzal Mountains, Maricopa Co., Arizona. April 2008. Pendulent spikes of male flowers at left in this image.
TREE: Medium sized tree found in shady, well-watered canyons. Under ideal conditions mature trees reach a height of 15 meters. Dark brown to nearly black, furrowed bark.

LEAVES: Large, compound leaves are alternate on the stems. Odd number of leaflets are toothed, numbering nine or more.

RANGE: A very frequent associate of Arizona Sycamore in the riparian woodlands of Arizona. Found in mountainous areas at mid elevations from Arizona to Texas and south into Mexico. Nogales is the Spanish name for walnut.

FRUIT: Fleshy husk over a hard-shelled nut. The husk is strongly aromatic and will stain skin black upon contacting the sap.

FLOWERS: Separate male and female flowers on the same plant, born in spikes. Male spikes have many more flowers than the female spikes.

UNARMED
Juglandaceae -- Walnut Family
More Information:
Sponsored Link: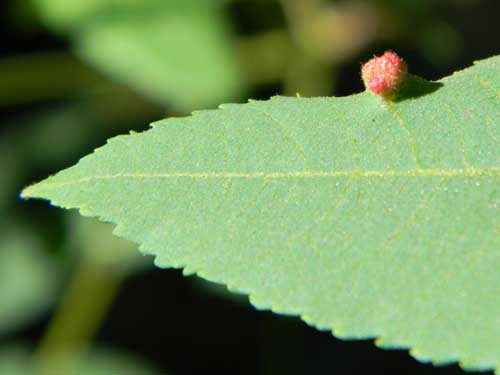 This swelling on the leaf is caused by the feeding activity of minute gall mites belonging to the family Eriophyidae. The blister is formed from the underside of the leaf and the mites would be visible by opening the gall and viewing the contents with a powerful magnifier.