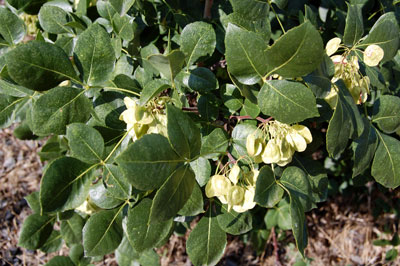 Photographed in Rackensack Canyon, Maricopa Co., Arizona, USA. Aug. 3, 2008.
Sponsored Links:
SHRUB / SMALL TREE: In sycamore woodlands growing mostly as a small understory tree or a shrub on the terraces pushing into adjoining habitats - particularly chaparral.

UNARMED. No thorns or spines.





LEAVES: Leaves are shiny with three leaflets each. Note that the leaves are alternate on the stem (Ashes, which might look similar, have opposite leaves). Citrus or unpleasant aroma from crushed leaves.

RANGE: Occurrence in Arizona is widespread, but spotty.

FRUIT: Flat, hop-like seeds with a wide papery wing. Conspicuous when in fruit.

FLOWERS: Small, whitish in contracted panicles. Fragrant.
Rutaceae -- Citrus Family
More Information:
Sponsored Link: