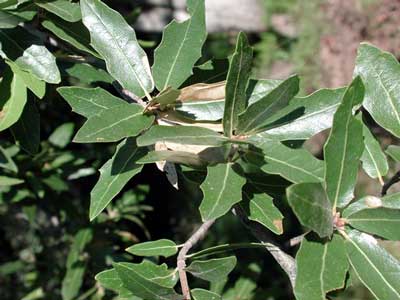 This Emory Oak was found in a deep, shady portion of Peralta Canyon, Superstition Mountains, Arizona. This image is hosted at high resolution Wikipedia
Sponsored Links:
Insects on Emory Oak

Catorhintha
TREE: A medium sized tree with very dark bark that is fissured vertically and horizontally into more-or-less rectangular scales.

LEAVES: Dark green, shiny leaves are wavy edged and have fairly sharp points; one at the tip and a few or none along the lateral margins. Most leaves remain on tree through winter; some are shed in spring as new leaves emerge, while still more are replaced after the onset of summer rains.

RANGE: Emory Oak appears frequently as a component of Arizona's sycamore galleries. Some trees growing in moister, deep soils can grow to large proportions. Less frequent at the higher and lowest elevations.

FLOWERS: Catkins of small flowers without showy petals. Abundant pollen colors the flowers yellow and is mostly dispersed by wind.

FRUIT: Acorns mature in one season and have a scaly cup which is hairy inside and out.
Fagaceae -- Oak Family
More Information:
Sponsored Link: