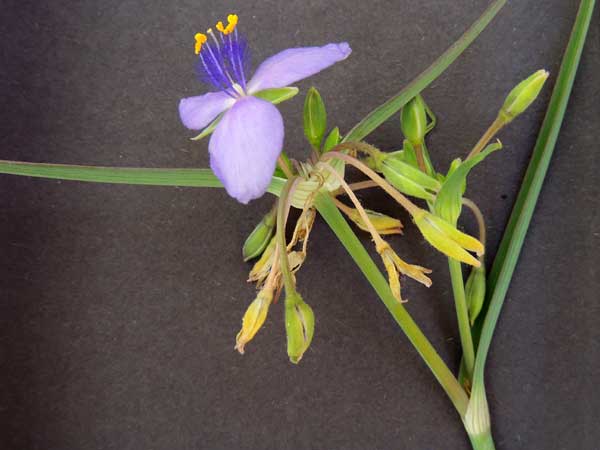 At boundary between juniper grassland and a sycamore riparian habitat. Sycamore Creek, Mazatzal Mts., Maricopa Co., Arizona, USA. 22 May 2016.
Sponsored Links:
HERB: Above ground growth is herbaceous, less than 0.5m, and arises from a subterranean perennial tuber.

FLOWERS: Groups of purple to pink flowers below which are two or three long, grass-like leaves. The yellow stamens are supported on filaments with long purple fringe hairs.

LEAVES: Leaves are parallel veined and like those of lilies. Clustered mostly at base.

RANGE: Distributed in grassland and open juniper woodlands usually on rocky flat terrain through mush of western North America.

FRUIT: Capsule with three valves and one or two seeds in each compartment.

UNARMED. Without thorns.
Commelinaceae -- Spiderwort Family
More Information:
Sponsored Link: