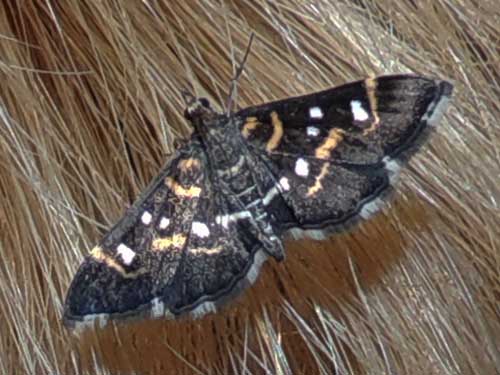 This moth was attracted to collecting lights in Florida Canyon, Sta. Rita Mountains, Arizona, USA. 28 July 2013. Wingspan is about 9 mm.
Sponsored Links:
Cramidae are called "snout moths" because of a pair of enlarged palps (mouth parts) that project forward from the head. There are USA two species of Diathrausta, D. harlequinalis and D. reconditalis, but a photo alone is not sufficient to distinguish them apart.
Many kinds of moths can be attracted to ultraviolet or mercury-vapor lights set up in sycamore canyons from July through September. The specimen shown here has alighted on the hair of collector! A typical set up with a bevy of collectors in rapt attention is shown below.
Crambidae -- a Moth Family
More Information:
Sponsored Link: