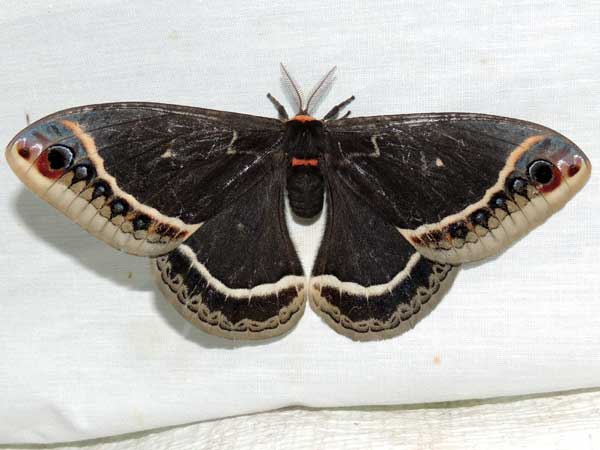 This moth was attracted to collecting lights in Florida Canyon, Sta. Rita Mountains, Arizona, USA. 28 July 2013. Wingspan is about 9 mm.
Sponsored Links:
This beautiful moth is a specialty of the border regions from southern Texas west to Arizona. In Arizona's sycamore canyons they are most often encountered at electric lights soon after the summer rains begin. It is then that fresh new leaves flush on their host plants. The adults emerge from silken cocoons in response to the summer heat and humidity. Adults do not feed, but instead devote all of their energy to mating and dispersing their eggs. In less than two weeks their reserves are exhausted.
The larvae of this insect have been recorded as feeding on a small variety of unrelated plants. This begs an interesting set of questions: Why these plants (Ocotillo, Ceneza, Mexican Jumping Bean) and not others? Are there others?
Saturniidae -- Giant Silk Moth Family
More Information:
Sponsored Link: