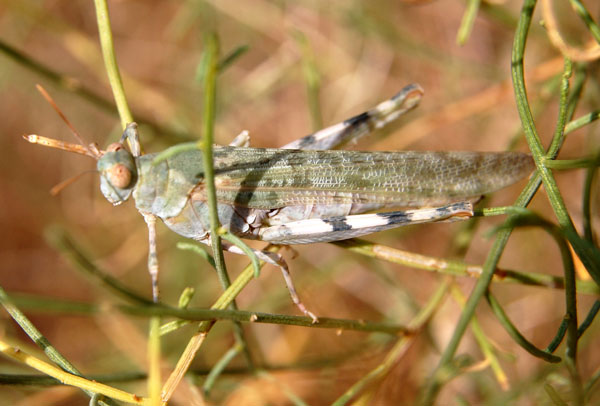 This wary grasshopper was found feeding on Burrobrush (Hymenoclea salsola) near the Pained Rock Mountains on 02 Nov. 2008.
Acrididae -- Grasshopper Family
Most grasshopper species feed on a variety of plants. Which plants they choose and why is still largely unknown. Each plant presents a different set of toxic secondary chemicals that grasshoppers must deal with. Often this means limiting exposure to any one chemical thereby inducing the grasshopper to move onto another plant species after some period of feeding. Many observations in the Sonoran Desert of herbivore choices may lead us one day to a better model of how the ecosystem manages to remain relatively stable and richly biodiverse.
The Alkali Grasshopper is an uncommon species tending to occur where there are saline or alkaline tolerant plants. Adults have been observed in spring and late fall - the complete life history is in need of description.
More Information: