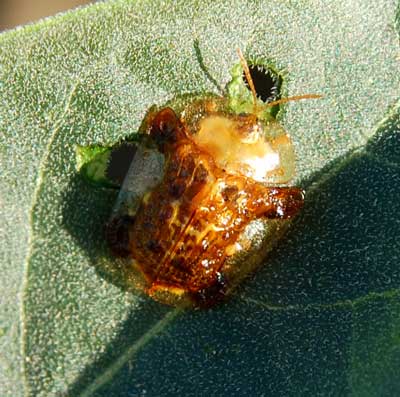 Tortoise Beetle feeding on leaf of Sacred Datura (Datura wrightii), Aug. 2008, near Mesquite Wash, Maricopa County, Arizona, USA.
Chrysomelidae -- Leaf Beetle Family
Like their reptilian namesakes, tortoise beetles hunker down when threatened. Their feet clutch the leaf surface and the legs pull the hard, domed shell flush with the leaf surface. Head and vital antennae are pulled inside until the danger passes. The Clavate Tortoise Beetle feeds on plants in the Nightshade Family such as Datura in the Sonoran Desert.
The larvae of these beetles also feed on solanaceous plants and are most interesting. The flattened larva is disposed with hooked, white projections around the perimeter. Upon these projections the larva affixes cast exoskeltons and fecal matter - apparently as a disguise, and to dissuade insectivorous birds.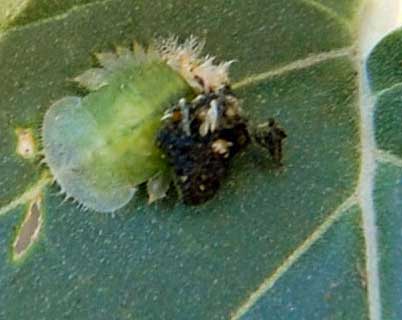 This immature version of the Tortoise Beetle, called a larva or grub, also feeds on leaves of datura. The clump of dark fecal matter is presented on the scoli (body spines).
More Information: