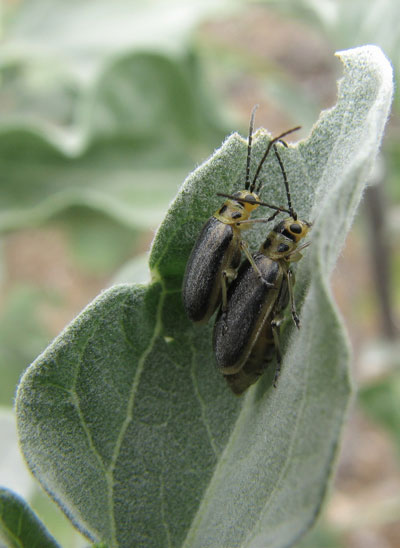 This male and female Trirhabda geminata resting on a brittle bush leaf were photographed by Laurie Nessel in the Sonoran Desert east of Phoenix, Maricopa Co., Arizona in April 2007. The smaller beetle is the male.
Chrysomelidae -- Leaf Beetle Family
From year to year Brittle Bush Leaf Beetle populations fluctuate wildly. Many years nary a one can be found anywhere while in some springs their numbers become so astronomical that every brittle bush has its leaves skeletonized by the glistening, blue-black larvae (caterpillar-like). Adults have the elytra gray with a pale yellow-green border. There may be some pale yellow stripes on the elytra as well. About 12 mm in length.
Adult beetles appear in early spring, mate, and then lay eggs upon new foliage of Brittlebush (Encelia farinosa). Groups of black larvae move from leaf to leaf, feeding on the leaf tissue but leaving the larger veins. Several generations may be completed before late spring when the beetles go into hiding or estivation until the following spring. Brittlebush sometimes leafs out after summer monsoon rains, but I have not observed beetle activity during that time.
Sponsored Links: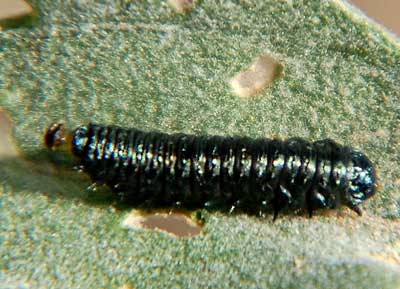 The larval stage of Trihabda geminata is blue-black in color and is about 1 cm long when full-grown. Notice typical leaf-beetle holes chewed into the leaf and that the head is facing right. Observed on 21 Feb. 2010 along the David Yetman trail in the Tucson Mountains, Pima Co., Arizona, USA.
More Information: