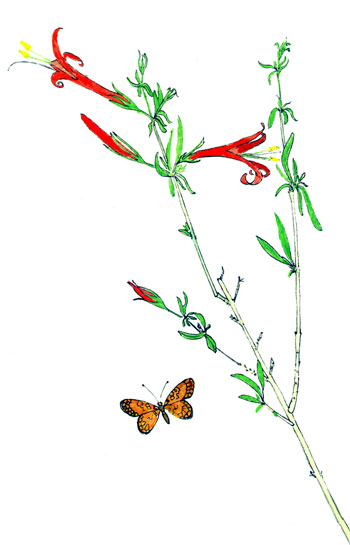 Illustrated from live specimen observed at Catalina State Park, Pima Co., Arizona. 28 Marche 1994. a) Elada Checkerspot, Texola elada.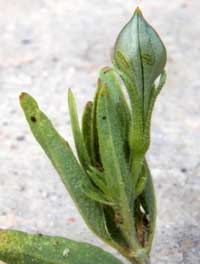 FLOWERS: Orange-Red, tubular, flowers have four, recurved petals. There are two long stamens with conspicuous yellow-tipped anthers. Flowering through much of year but peaking April and May.

SHRUB: A woody shrub mostly 1 to 2 m tall. Bark of older stems becomes white with stringy shreds.

UNARMED: no spines.

LEAVES: Elongate leaves, gradually tapered towards tip, are opposite or fascicled.

FRUIT: The oblong fruit is compressed with seams along the flat sides. As the capsule dries the appendages holding the seeds twist, storing more and more energy as the seeds push against the capsule wall. Finally the capsule explodes open and the seeds are flung several meters away. Usually there are four seeds, two in each side of the capsule. See photo below.

RANGE: This shrubby plant is most often encountered above 800 m elevation east and south of Phoenix and in the areas near Tucson. Habitat is on wash and canyon banks often in partial shade of cliffs or small trees.

A very small orange and black butterfly, the Elada Checkerspot, is commonly encountered near this plant because the caterpillar stage feeds upon the leaves. The flowers are highly attractive to hummingbirds.
Acanthaceae -- Acanthus Family
Sponsored Links: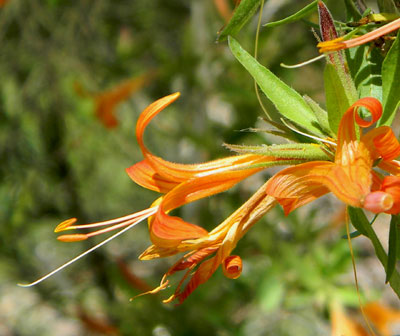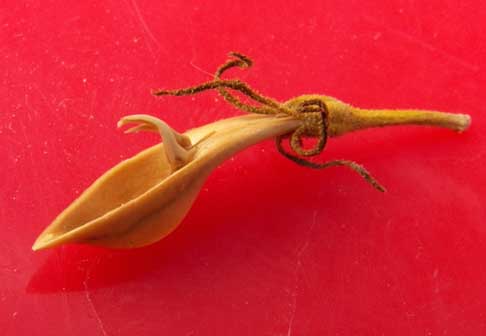 More Information: