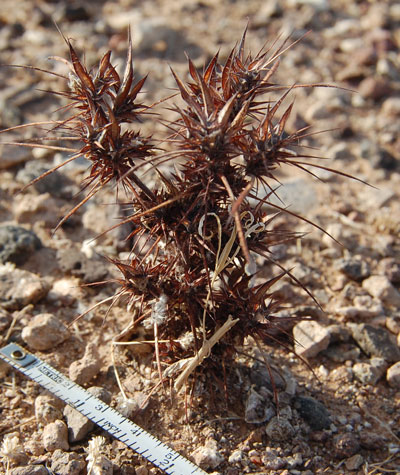 Photographed near Painted Rock Mountains, Maricopa Co., Arizona. 01 Nov. 2008. It flowered and bloomed some six months before and is now a dry skeleton.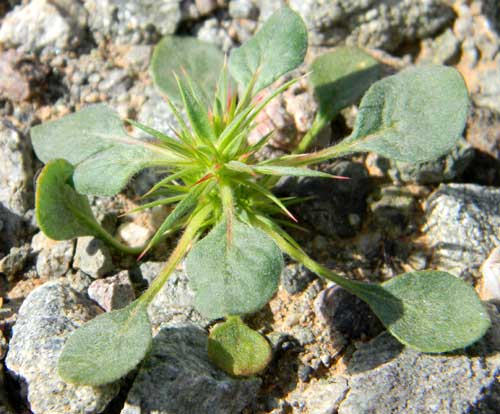 Photographed in the Ajo Mountains, Pima Co., Arizona, USA on 21 March 2010.
ARMED. The bracts subtending the flower clusters are long and sharp. These spines protect the seeds from seed eaters as well as the whole plant from chewing herbivores.

ANNUAL: The leafy portions of this diminutive plant wither and die by late spring, but the rigid, armed skeleton remains for a year or more. An exceptionally tall plant would only be 10 cm tall.

LEAVES: Leaves are spatulate on long petioles. They shrivel away as the flowers continue to open and mature seeds.

RANGE: Ranges from the Sonoran Desert in Arizona west into the Mojave Desert of California and Nevada. Deep sandy or silty soil in the lower elevations seems prefered.

FRUIT: The developing fruit and seeds are obscured by the long, spiny, lance-shaped bracts.

FLOWERS: Small, greenish-yellow flowers are rather inconspicuous.
Polygonaceae -- Buckwheat Family
Sponsored Links:
More Information: