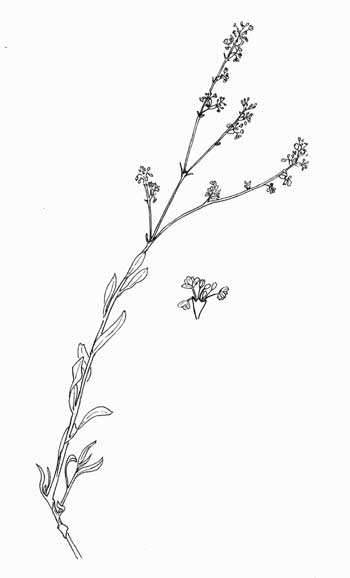 Wright's Buckwheat, Eriogonum wrightii. Catalina State Park, Sta. Catalina Mts., AZ. 19 Sept. 1994. At center right, enlarged view of a group of small flowers arising from a cup-like involucre.
SHRUB: A weakly woody shrub normally about ½ to 1 meter tall.

LEAVES: Grayish-green leaves are elyptic and 1 to 2 cm long. Fine pubescence on leaves, young stems and floral bracts. Plant is sometimes called Wooly Buckwheat.

RANGE: Common through much of the Sonoran Desert in Arizona especially on bajadas and rocky slopes from 500 to well over 1000 m elevation. Also found in higher elevation semi-arid habitats such as desert grassland, openings in chaparral and piñon-juniper woodlands.

FRUIT: Small achenes partially enclosed by three bracts.

FLOWERS: Clusters of five-poined pinkish-white flowers are set in a cup-shaped involucre derived from fused, bracts (enlarged view at right in the sketch).

UNARMED.
Polygonaceae -- Buckwheat Family
Sponsored Links: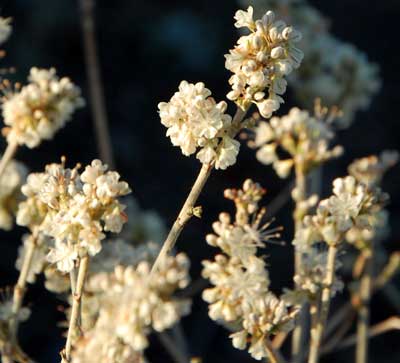 Observed near Quien Sabe Peak, Maricopa Co., Arizona, USA, Sept. 2009.
More Information: