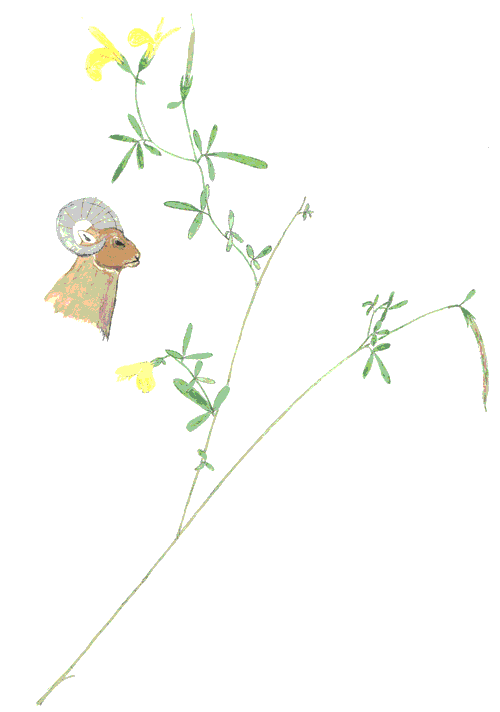 Watercolor illustration from a specimen found in flower and fruit at Superstition Mts., Pinal Co., Arizona. 29 Feb. 1992. Desert Rock Pea provides important forage for Desert Bighorn Sheep (Ovis canadensis).
PERENNIAL: The herbaceous growth reaches a height of 50± cm from a slightly woody crown. The twigs are succulent and brittle.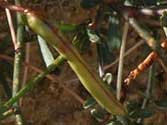 FLOWERS: This perennial produces lush growth and abundant yellow-orange pea flowers very early in the spring (Jan-Apr).

RANGE:In spring, Desert Rock Pea can be found on rocky slopes nearly throughout the Arizona Sonoran Desert. Also known as deer vetch, it is important forage for Desert Mule Deer and Bighorn Sheep.

LEAVES: Compound leaves have 3-5 leaflets.

FRUIT: The pods take on a bright reddish hue as they mature. As they dry further the two halves of the pod (valves) begin twisting in opposite direction but are held in place by the seam holding them together. When the force finally breaks the valves spring and twist open suddenly ejecting the seeds far from the parent plant.

UNARMED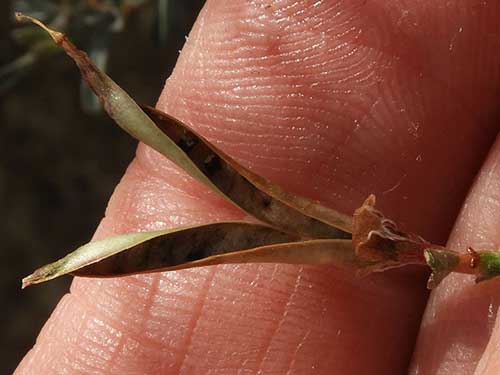 Cool moist winters favor an abundance of Pea Aphids on desert rock pea which attract many Convergent Lady Beetles (Hippodamia convergens) whose larvae devour the aphids.
Fabaceae -- Bean Family
Sponsored Links:
More Information: