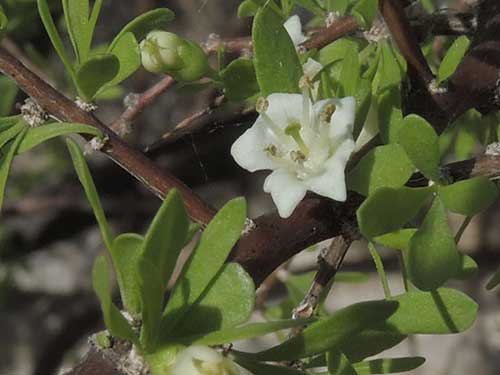 The fragrant flowers are visited by moths at night and butterflies in the morning before the heat of the day withers them. White Tank Mountain Park, Maricopa Co., Arizona, USA on 17 August 2018.
Sponsored Links:
FLOWERS: Small tubular flowers are flared open and are very pale to milky white. The calyx is free of sticky hairs. Flowering occurs in summer after start of monsoon rains.

FRUIT: Bright, orange-red berries with flavor of tomatoes containing a several hardened seeds.

LEAVES: Linear to narrowly elliptic leaves are smooth to slightly roughened.

SHRUB: A medium to large shrub with rigid branches and not-so-sharp thorns.

RANGE: Southern portions of the Sonoran Desert and ranging eastward to West Texas and northern Mexico.

ARMED: The thorns are at the twig tips and not particularly sharp on most specimens.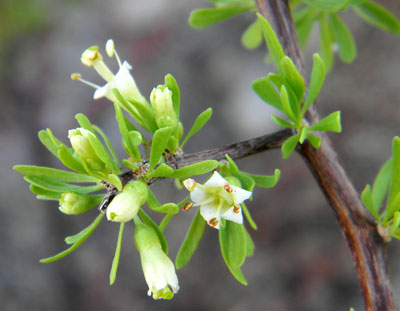 South Mountain Park, Maricopa Co., Arizona, USA on 13 August 2010.
Solanaceae -- Nightshade Family
More Information: