The Waterfall is completely dry most of the year. But after a week with heavy rains, it was flowing heavy on March 14th, 2020.
Field Trip Report:
January 29, 2011
There was some rain here back in Nov-Dec 2011 and since then it has been dry and quite mild with little or no winter frost. Trees and shrubs were green with foliage and creosote bush were putting forth some yellow flowers. Ocotillo were in leaf - these woody plants readily drop their leaves after frost of severe drought - thus they can be used to gauge recent weather events. A few plants had open flowers but it was necessary to search for them and most were very diminutive.
I noticed that virtually every saguaro cactus had a swarm of minute dipterans (gnats/flies) near the top of the plant and on the sunny side. It was late afternoon with temperatures around 20°C. These swarms are made up almost entirely of males - each swarm included 100 or more. Each male continues circling around while trying to maintain a central position in the group. Presumably female flies are attracted to the group and select a male at the approximate center. They could be seen easily by looking towards the sun while blocking the direct rays from the eyes. I could not tell the species nor do I know what role these flies play in the desert ecosystem. Likely though they live as larvae in the soil or within dead plant material.

I spotted a wine-colored Desert Harvestman, with a globular body about 7 mm long and equipped with eight, very long spindly legs. These are arachnids, related to spiders, but lacking two hallmarks of spiders: no venom and no silk spinning. Another insect I saw in abundance were skeletonizing leaf beetles on the spring foliage of brittlebush. Because spring rains have been so sparse the plants will not lose a lot by letting these leaves be eaten by herbivores.
Sept. 7, 2009
The most brutal heat of summer was beginning to ease so we went out to for an early morning stroll and found it at Black Rock Loop Trail (GPS: 33.50216N, 112.50216, elev = 446m). Our most pleasant sighting of the morning was a doe Desert Mule Deer. There were a lot of ceratopogonids coming to our ankles and ears in search of a blood meal - surprising, unexpected and unpleasant! Even though there had been rain the past week or so the only blooming plants found were Needle Grama (Bouteloua aristidoides), Skeleton Weed (Eriogonum deflexum), Desert Senna (Senna covesii), and Compass Barrel (Ferocactus cylindraceus). Two butterfly species were seen on the wing: Orange Sulphur (Colias eurytheme) and Sleepy Sulphur (Eurema nicippe).
The soil was wet just below the surface suggesting that good desert growth should occur over the next week or so. At the trail head there is a dedicated bench in the shade of a lovely Desert Ironwood (Olneya tesota) in honor of Carl & Margarite Schuetze. On the day we also snapped a photo of a Bendire's Thrasher high on a saguaro cactus. It was singing as were the numerous Black-throated Sparrows. All around this short loop (less than one mile) we did not see a single ocotillo.
Sponsored Links
Field Trip Report:
March 24, 2002
One of the driest winter seasons in many years has left the Sonoran Desert nearly devoid of greenery. A few creosote bush near the parking areas had flowers and a smattering of ocotillo had bright red blooms at the tips of their coachwhips. Woody shrubs and trees were devoid of fresh leaves and many were already aborting branches and twigs. A reminder of how harsh the desert can be.
Nonetheless, most of the common spring birds and several lizards (Side-blotched and Tree) were spotted along Goat Camp Trail. The trail head is at the first turn off to the left after entering the park.
Creosote Bush leaves may yellow significantly during drought and still revive later. If drought continues more and more leaves will die, fall and even some twigs may die back, but the plant will usually survive until rain returns.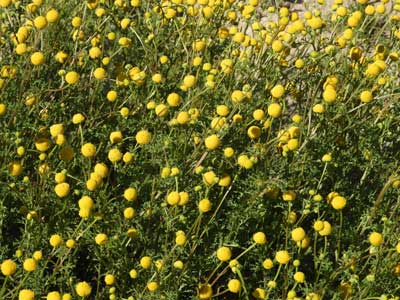 Since the year 2010 this exotic plant has gone from being a curious rare plant to an invasive weed. It has been taking over many habitats, especially roadsides and vacant lots. Now in 2020 it has become a serious weed in our desert parks and preserves. Efforts to remove or control it are likely futile given how abundant it has become. Shame on someone for bringing this pretty plant from where it belonged (South Africa) and letting it thrive unchecked at the expense of native plants in the Sonoran Desert. Read more.