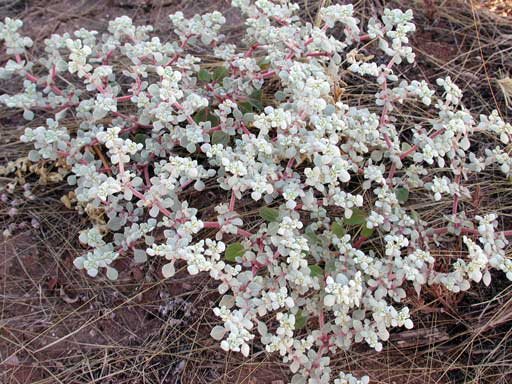 This photo was taken in Phoenix at the Reach 11 Recreation Area on Sept. 25, 2005.
SUMMER ANNUAL: Low growing annual appears after favorable summer rains blooming from August into early October.

LEAVES Leaves are covered with silvery hairs.

RANGE: Sonoran, Chihuahuan and Mohave Deserts of Arizona, Sonora, California. Common on flat areas especially those that are briefly inundated by thunderstorm runoff.

FLOWERS: Flowers are borne in small clusters and are yellowish white.

STEMS: The reddish stems contrasting with the silvery-white leaves are characteristic and make for a very attractive plant.
Amaranthaceae -- Amaranth Family
Sponsored Links:
More Information: