Birds
Additional observations submitted by Mel Herring. Common species listed first:
Northern Mockingbird -- S,F,W,Sp
Anna's Hummingbird -- S,F,W,SpGreen back; forehead and throat of males magenta.
Verdin -- Auriparus flaviceps -- S,F,W,Sp Tiny birds, barely larger than a hummingbird. Gray/brown with a majestic yellow head
Abert's Towhee S,F,W,Sp--
Cactus Wren S,F,W,Sp--
Mourning Dove -- Zenaida macroura -- S,F,W,Sp--
Gambel's Quail -- Callipepla gambelii -- S,F,W,Sp
Inca Dove -- Columbina inca -- S,F,W,Sp -
White-crowned Sparrow -- Zonotrichia leucophrys -- W,Sp-- look for these during winter and early spring.
Gila Woodpecker -- Melanerpes uropygialis -- S,F,W,Sp
Say's Phoebe -- Sayornis saya -- S,F,W,Sp - can be found all year, but more so during the winter months
House Finch -- Carpodacus mexicanus -- S,F,W,Sp--
Curve-billed Thrasher -- Toxostoma curvirostre -- S,F,W,Sp--
Black-throated Sparrow -- Amphispiza bilineata -- S,F,W,SpLovely birds with a jet-black throat and bib contrasted by bright white eye brows. Beautiful singers. A very nice description of the black-throated sparrow can be found at Twentynine Palms Cyberzine (California).
Red-tailed Hawk -- Buteo jamaicensis -- S,F,W,Sp
Great-horned Owl -- Bubo virginianus -- S,F,W,Sp
Northern Cardinal -- Cardinalis cardinalis -- S,F,W,Sp--
Black Phoebe -- Sayornis nigricans -- S,F,W,Sp - rarely strays far from water's edge
Brown-headed Cowbird -- Molothrus ater -- Sp, S
Turkey Vulture -- F,Sp
Ladder-backed Woodpecker -- S,F,W,Sp -
Greater Roadrunner -- Geococcyx californianus -- S,F,W,Sp -
American Kestrel S,F,W,Sp--
Northern Harrier F,W--
Killdeer -- Charadrius vociferus -- S,F,W,Sp
Lesser Goldfinch -- S,F,W,Sp
Wilson's Warbler -- Sp,F
McGillavry's Warbler -- Sp,F
Western Kingbird -- Sp,F
Northern Flicker -- Sp,F
Townsend's Warbler -- Sp,F
Horned Lark -- W
Bullock's Oriole -- Sp,F
Warbling Vireo -- Sp,F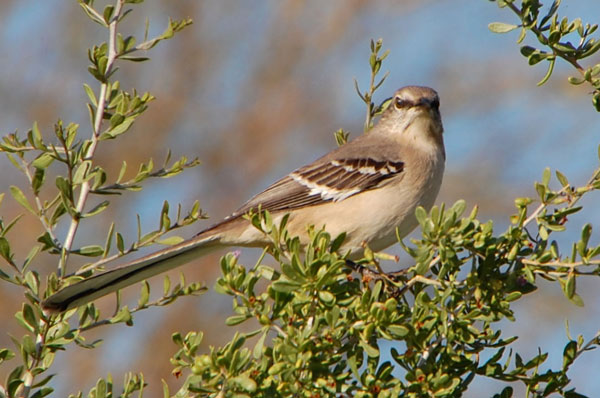 Northern Mockingbird (Mimus polyglottos). Photo by Mike Plagens.
Sponsored Links: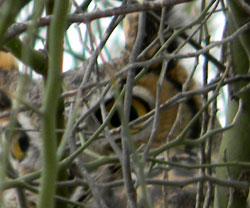 Great-horned Owl will surely see and hear you from her secluded perch.