Photographed near Shaw Butte, Phoenix, Maricopa Co., Arizona. June 18, 2002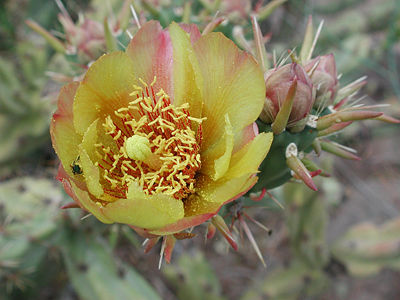 The flower color is variable, from yellow to orange/red. Also visible in this photo hosted at Wikimedia are fleshy, spike-shaped leaves on the new shoot. These tender leaves are edible and tasty! They whither and are shed by the plant within a month or so. Observed at Mesquite Wash, Maricopa Co., AZ.
JOINTS: The stems are succulent and formed into cylindrical joints mostly less than 30 cm long and 2½ to 5 cm in diameter. The tubercles on the joints are conspicuously raised and elongate.

FRUIT: mature fruit turns dry and brown.

RANGE: a frequent cholla throughout the deserts of southwestern Arizona.

SHRUB: Normally a shrub rarely over 2 m tall. Occasionally with a distinct central trunk.

FLOWERS: Numerous petals are variable in color ranging red, yellow or purplish.

SPINES: Up to two dozen per ariole, 30 mm long, silvery or tan but turning black with age.
Cactaceae -- Cactus Family
Sponsored Links:
This salmon colored bloom was observed in the Estrella Mountain Wilderness on 19 Apr. 2009.
More Information: