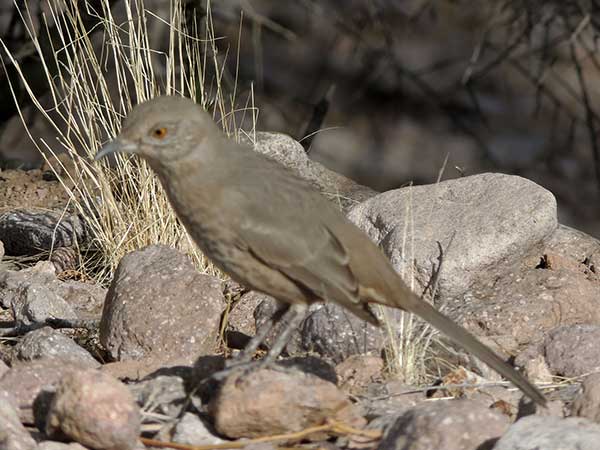 At the west end of the Superstition Mountains, Maricopa Co., Arizona, 6 Nov. 2017.
Bendire's Thrasher is a Sonoran Desert specialist which nests in Arizona, USA and Sonora, Mexico. It's drab brown and gray color matches the desert's and allows it concealment. It is similar in appearance to the Curve-billed Thrasher (Toxostoma curvirostre). The principal distinguishing mark is the shorter, straighter bill. In addition, Bendire's is smaller and has a more yellow eye. The two species are often found in the same area. Beware that Bendire's bill, although smaller, is also stout and down-curved. The bird is named for Charles Bendire a US Army Soldier who also had a passion for bird study.
During the spring and summer nesting periods insects and small lizards form the bulk of the diet. At other times of year fruit and seeds are vital. Bendire's Thrasher is an exquisite songster - singing especially after wet periods when vegetation is greening up and the prospects for abundant insect prey are good.
Year-round Resident - Partial Migration
Sponsored Links:
More Information: