Birds
In general order of Abundance:
Verdin -- Auriparus flaviceps --S,F,W,Sp - Tiny birds, barely larger than a hummingbird. Drab gray brown with a majestic yellow head. Esp. in trees in wash/picnic area.
Rock Wren -- S,F,W,Sp -
Black-throated Sparrow --S,F,W,Sp - These pretty birds were abundant in May 2000. They were busy feeding on the seeds and insects that developed on the many wildflowers that bloomed during the month of April. They have a jet-black throat and bib contrasted by bright white on the sides of the face. Beautiful singers. A very nice description of the black-throated sparrow can be found at Twentynine Palms Cyberzine (California). These birds will migrate away when the really blistering days of summer arrive.
Anna's Hummingbird -- S,F,W,Sp - Common. Green back; forehead and throat of males magenta.
Mourning Dove -- S,F,W,Sp
Curve-billed Thrasher -- S,F,W,Sp - also likely along the wash near the picnic areas.
Cliff Swallow -- Sp,S - Common because of the lakes and ponds at Arrowhead.
Gambel's Quail -- S,F,W,Sp - No doubt a bit more common than would be otherwise because of feeders put out in the nearby housing areas.
Gila Woodpecker -- Melanerpes uropygialis -- S,F,W,Sp -
Cactus Wren -- S,F,W,Sp -- These birds require more food than would normally be available in this sparse habitat, and so are generally restricted to areas near the picnic tables where they find supplemental food in the form of crumbs and handouts.
Northern Mockingbird -- S,F,W,Sp -
House Finch -- S,F,W,Sp -
Phainopepla -- W,Sp - in the winter season especially. Jet-black (males), crested birds with red eyes will gather in the wash where there are desert mistletoes growing in the trees (females are dark gray). They eat the mistletoe berries.
Black-tailed Gnatcatcher -- Polioptila melanura -- S,F,W,Sp
Ash-throated Flycatcher -- Sp,S - spring time esp.
Turkey Vulture -- Cathartes aura -- Sp,F - Mostly seen in spring and fall during migration. Observed at Hedgepeths on 20 April 2008 by Paul V. & Family.
Greater Roadrunner -- S,F,W,Sp -
Inca Dove -- S,F,W,Sp - Most likely in areas adjacent to residential areas
Great-tailed Grackle -- S,F,W,Sp - Post-picnic pickers.
Brown-crested Flycatcher -- Myiarchus tyrannulus -- S - strictly a summer bird -- heads south into Mexico come autumn.
Loggerhead Shrike -- Lanius ludovicianus -- S,F,W,Sp - A nesting pair found in May 2000 near the Adobe Dam recreation area.. <
White-throated Swift -- F,W,Sp - might be seen cavorting in speedy dives and swoops around summits
Quite a number of water birds can be seen at the ponds at the north end of Arrowhead. You can hike down along the edge from the mountain trails. There are egrets and herons. In the winter there are often many ducks, coots and grebes.
Sponsored Links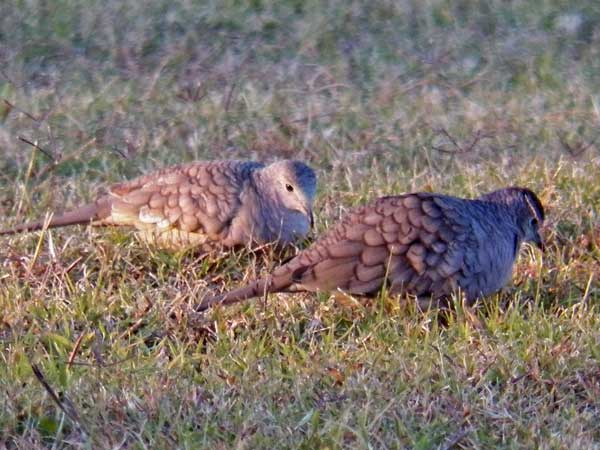 Inca Dove (Columbina inca) Photo by Mike Plagens.