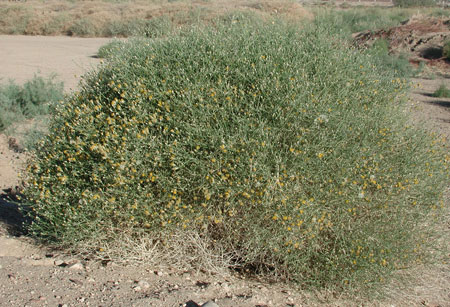 This photo was taken near Avondale, Arizona Oct. 2007. It is an unusually large specimen and is growing adjacent to a dry retention lagoon.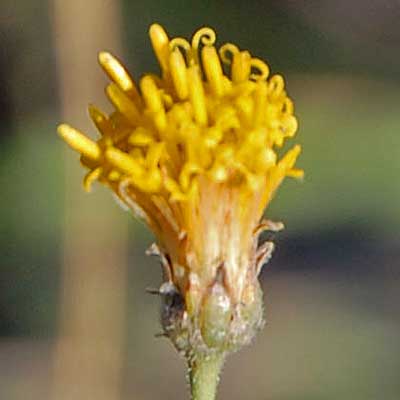 Close-up of a flowering head observed near the Salt River in Phoenix, Arizona, October 2009.
Many kinds of butterflies and and other insects will be found visiting the flowers, including Queen Butterfly, Cloudless Sulfur, Honey Bee, Long-horn Bee, Sweat Bee, Pipevine Swallowtail, Acmaeodera Beetles x2, and Leda Hairstreak Butterfly:









SHRUB : Shrubs mostly about a meter tall, sometimes two. Stems are green and rush-like especially following drought periods when the leaves are shed.

LEAVES Small, pinnately divided. Plants may be leafless for much of year. Leaf texture is gritty.

RANGE : Fairly common along washes and roadsides. Sometimes on rocky slopes.

FLOWERS: Composite heads of yellow disc flowers only. Flowers in late spring and sporadically through year. After months of droubt, this plant will sometimes be the only thing blooming, and as such is highly attractive to butterflies and other insects seeking nectar.

ACHENE: The seeds have a crown of fine bristles.
Asteraceae -- Sunflower Family
Sponsored Links: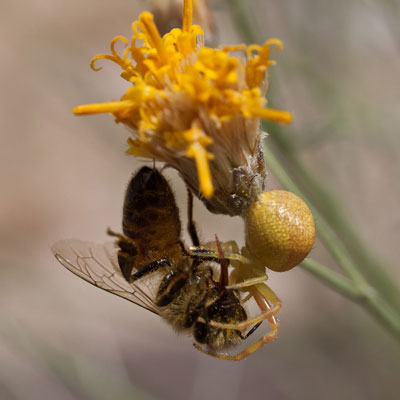 For pollinators coming for a reward of nectar or pollen there are hazards: In this case a honeybee was snared by a crab spider (Photo by Allan Ostling).
More Information: