Photographed at the trail head to Shaw Butte, Phoenix Mountains Preserve, Arizona. January 19, 2003. Behind the two fountain grass plants is a Brittle Bush in bloom.
Sponsored Links:
Fountain Grass is a popular decorative component for xeriscape landscapers. Unfortunately it is also an exotic invasive that can spread into natural Sonoran Desert habitats. There it can compete with native plants such as Brittlebush. The dry leaves after drought can be a fire hazard allowing wildfires to spread. Also, exotic plants generally don't contribute much to the local food chain because the primary consumers are absent and the chain is broken.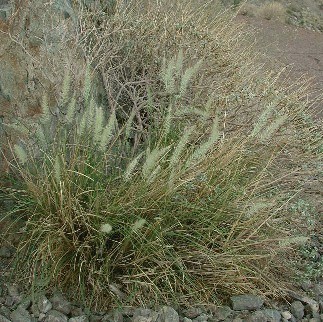 Photographed along the hiking road up to the summit of North Mtn., Phoenix Mountains Preserve, Arizona. August, 2002. Here Fountain Grass may be helping to control erosion at the road edge.
Poaceae -- Grass Family
More Info: