Field Trip Reports
January 20, 2014
Promising winter rains in November and December have been followed by sunny, dry and warm weather. Many small annuals have grown up, but are very small. Should a good soaking rain come in the next couple of weeks they will grow rapidly into larger, flowering plants. Today I found three shrubs in bloom: Desert Lavender, Sweet Bush, and Wolfberry. Minute blooms were also open on comb-bur and popcorn flower. At the summit I was surprised to see Pima Orangetip (Anthocharis cethura pima) butterflies and a Canyon Wren was a new bird for me at this location.
May 24, 2009
Two weeks of unseasonably early triple-digit temperatures were followed by out-of-season, monsoon-like thunderstorms this past week. By 7 PM the temperature was about 32°C, warm, but not too hot for a hike. I hiked up Shaw Butte from the Central Ave. & Thunderbird trailhead. Three or four Lesser Nighthawks were already on the wing in the setting sun. It's possible they are nesting atop Shaw Butte upon expanses of the barren, basaltic lava. Not a bloom open except for the last of the ironwoods near the trail head. Creosote Bush are loaded with glistening white seeds. At dusk I heard and saw a singing Bendire's Thrasher, a new record for me at this location, also near the lava fields. Some hikers ahead of me spotted a Tiger Rattlesnake, but it moved on before I had a chance to see it. Black-throated Sparrows and Rock Wrens put in their own songs as the sun sank below the horizon.
July 20, 2008
A week ago this area was soaked well with the first decent summer rains of the year. Temperatures soon rebounded to over 40°C and so delicate annuals simply have no time to get established before the top soil layers are again bone dry. Shrubs and succulents on the other hand have taken full advantage and have greened up.
Today was mostly cloudy with a good chance of more showers. None fell but the milder conditions prompted Graham's Pincushion to bloom with radiance! Another treat for my morning hike was a Roadrunner sitting atop a knoll surveying the desert all around. On my approach it leapt up catching the breeze and glided way down to the valley below and scurried into the brush.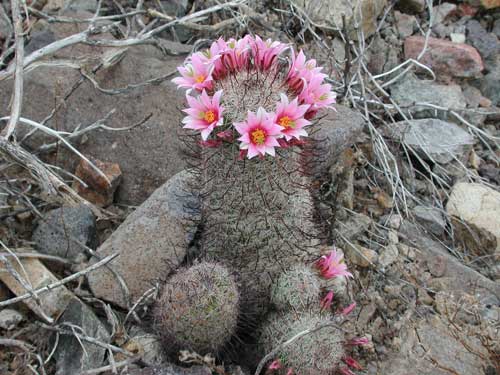 Graham's Pincushion Cactus -- Mammillaria grahamii. Take a look at a higher resolution image on Flickr

July 27, 2003
I discovered today why so many Cactus Wrens and Rock Wrens gather near the summit! Bright lights for security illuminate the communications tower and equipment. This draws in moths and other insects: at daybreak the wrens pick the resting insects from fences, walls and rocky surfaces.
Sept. 24, 2000
Trail from North Mountain Recreation Area to Summit. In the first canyon from the trailhead a hunting coyote caught the attention of a Rock Squirrel which kept up a continuous, very loud barking. Basically it was telling the coyote it had been seen and should not bother trying to stalk. Birds and other squirrels heard the alarm as well and kept a wary eye.
Jan. 3, 1998
Trail from North Mountain Recreation Area to Summit. Barely up the trail from the parking area there is a lone saguaro cactus that has suffered repeated pummeling with rocks. It is badly scarred with blackened injuries any of which could have resulted in a fatal systemic infection. At the very least the plant has suffered a reduction in photosynthetic ability and has been transformed into an unsightly giant. Maybe the parks department should set up a remotely activated camera to snap a picture of culprits!
UPDATE: In Sept. of 2003 as I was hiking up this trail I caught the very distinctive scent of a saguaro in death - yeasts and bacteria breaking down the flesh. The pummeled cactus had fallen and the richness of this desert preserve dropped accordingly.