Introduction
North Mountain, one of the larger units of the Phoenix Mountains Preserve, is bounded on the north by Thunderbird Rd., on the east by 7th Street, on the south by Peoria, and on the west by 19th Ave. North Mountain (elev. 641 m, photo at right) is on the east and Shaw Butte (655 m) above) is located to the northwest. Both summits are crowded with radio towers.

The North Mountain Recreation Area, with access just north of Peoria Avenue off of 7th Street, has plenty of picnic ramadas and a trail that is very popular, especially for people seeking a good workout hike. This trail is much easier and also less heavily visited than either Camelback Mountain or Squaw Peak. About 2/3 of the trail follows a black-topped road to the towers at the summit. Parking is rarely a problem even on a pleasant Sunday in spring time!
Alternately, access to this area can be made from the south via Mountain View Park about 2 miles north of Dunlap on 7th Avenue. Yet another trailhead is provided on 7th Street just south of Thunderbird.
The Geology is varied. North Mountain itself is composed mostly of ancient metamorphic rock dating to the Pre-Cambrian Period. Gneiss (alternating light and dark bands) and schist (highly compressed and layered) predominate. Shaw Butte is similar, but has a bilayered cap of much younger Quaternary or Tertiary volcanic ash and basaltic lava. The huge time gap between the layers as well as the isolation of the lava flow give stark testimony to the power of erosion operating over hundreds of millions of years.
North of Mountain View Park there is a large earthen dam that protects nearby homes by lowering the risk of flooding. A thick layer of fine soil has collected behind that traps a lot of moisture; plants with deep root systems such as mesquite and blue palo verde grow there. There are salt bush, desert lavender, gray thorn, mesquites and blue palo verdes growing behind the dam.
Trail from North Seventh Street entrance: A large parking area and trailhead is provided on Seventh Street south of Thunderbird for access to trail No. 100. The trail passes beneath Seventh Street (underpass) from the preserve unit to the east. After a brief westward route, the trail then turns south through the valley that separates North Mountain from Shaw Butte. Within sight of the parking area is a small water catchment constructed with Heritage Fund support for the purpose of "habitat improvement." There are a few small Fremont cottonwoods and a sparse planting of mesquite. A barrier fence and sign ask hikers to keep out or the revegetated area. The cottonwoods turn bright yellow by late fall. About a half kilometer on trail No. 100 brings you to Trail No. 106. Turning west on this spur will bring you to an earthen dam that helps protect the housing development at Central Avenue. There are a lot of Blue Palo Verde growing on the dam and behind it. Many people prefer the flat land hiking, however, if one chooses there are connections that can be taken to ascend either summit.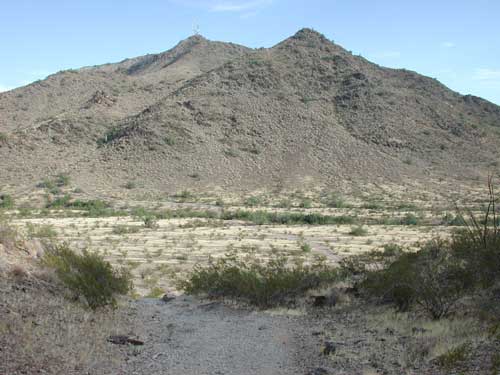 The west slope of North Mountain is sparsely vegetated; the dark green shrubs at center are Creosote Bush -- Larrea tridentata.
Sponsored Links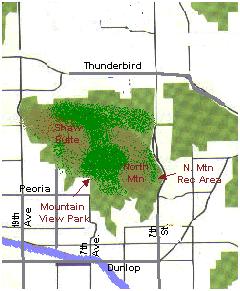 Area map adapted from Phoenix Parks & Rec. Map. Easiest access points are from 7th Ave or 7th Street north of Dunlap. Or 7th Street South of Thunderbird.