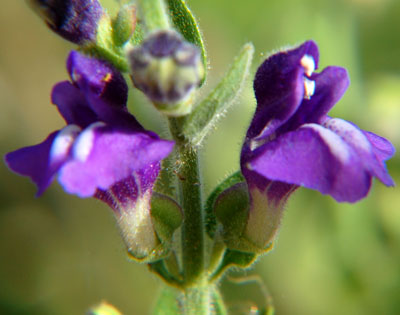 Observed along First Water Trail, Superstition Wilderness, Arizona, USA. 03 May 2009.
Sponsored Links:
FLOWER: Vivid, blue-purple, two-lipped flowers. Several flowers from the leaf axiles at each node. The name skullcap comes from the odd shape of the calyx, just below the petals. The green calyx is also two lipped, but also has a flap projection on the dorsal surface that expands as the flower opens and matures. Indeed it looks like a little green cap.

PERENNIAL HERB: Above ground entirely herbaceous from a perennial root stock. Many leafy stems mostly about a meter tall or less.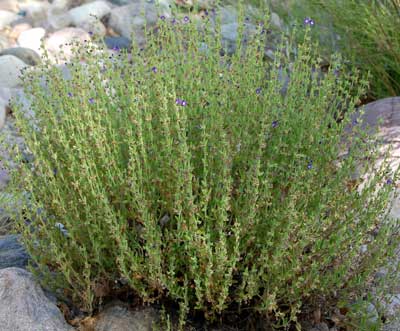 By some authorities the subspecies occurring in Arizona is elevated to full species rank: Scutellaria platyphylla.
LEAVES: Elyptic leaves are opposite on stems. Also note the stems that are slightly square in cross-section, a common trait of the mint family.

RANGE: Uncommon in the Sonoran Desert. Found in the higher elevations along the eastern boundary in transition to oak or juniper woodlands. Also found in New Mexico, Texas, and Mexico.

FRUIT: Dry capsules with four nutlets.

UNARMED.
Lamiaceae -- Mint Family
More Information: