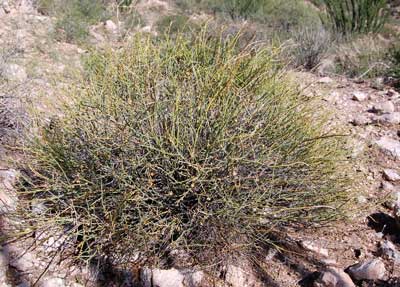 Photographed in Wickenburg Mountains, Yavapai Co., Arizona. Sept. 6, 2008.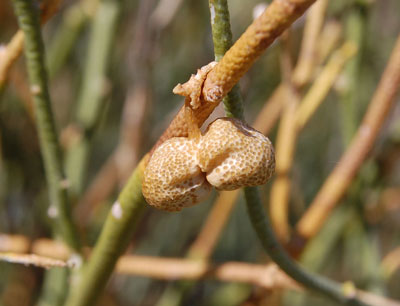 The fruits of turpentine broom have large, conspicuous oil glands emitting a very pungent odor on being pressed. Photographed in Wickenburg Mountains, Yavapai Co., Arizona. Sept. 6, 2008.
SHRUB: A meter tall hemisphere with many, smooth, yellow-green stems radiating from base. In winter the smooth, leafless stems take on a lemon-yellow cast - see photo below.

LEAVES: Leaves are elyptic, but soon deciduous leaving the smooth, yellow-green stems to carry on photosynthesis. Stems and fruits all exude pungent, citrus-like, terpenes when injured.

RANGE: In the Sonoran Desert this plant mostly appears in transition to chaparral and is more common along the northern tier from Mojave Co. east to n. Gila County. Also grows sporadically in the Mojave Desert of California and Nevada, but then also in portions of the Chihuhuan Desert to the east. Its abundance is often increased where cattle have been grazed to excess, because they avoid it in favor of more palatable forage.



FRUIT: Misshapen, bilobed sphere is golden yellow when mature with conspicuous oil glands. Dry with several seeds.
FLOWERS: The long, deep purple petals remain erect and confluent. Stan Shebs has a close photo of the flower on Wikimedia.

UNARMED. No thorns.
Rudkin's Swallowtail (Papilio polyxenes coloro) uses this plant

for its caterpillar stage affirming the relationship between members of the citrus and carrot plant families.
Rutaceae -- Citrus Family
Sponsored Links: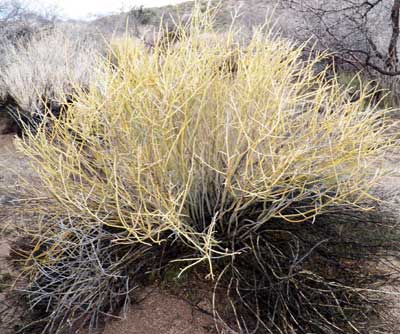 More Information: