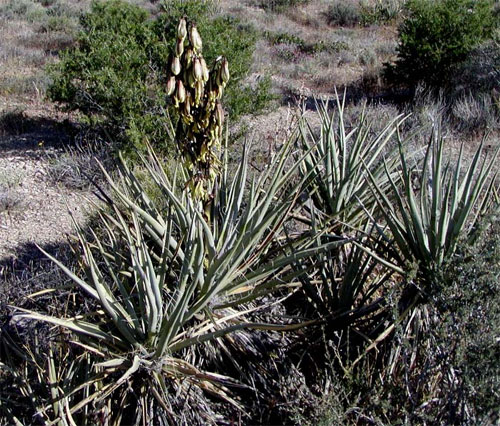 This photo was taken by Stan Shebs in Red Rock Canyon near Las Vegas, Nevada in May 2004. A full resolution image is hosted at Wikipedia
Sponsored Links: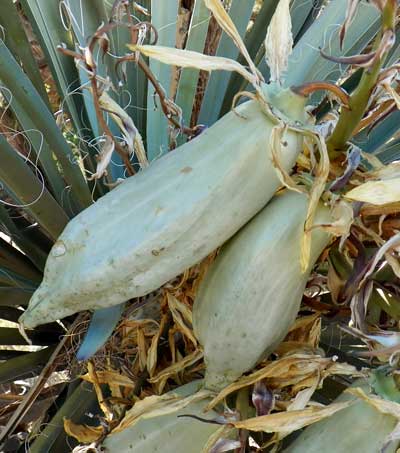 Nearly mature fruit in the New River Mountains, Maricopa Co., Arizona. 28 May 2012.
SUCCULENT : A robust yucca with stiff, bayonete-like leaves. The leafy part may be two meters tall and the flowering stalk may extend up another meter. Usually with multiple stems from a common root crown.

LEAVES: Look for shredding fibers fraying away from leaf edges. The leaf tip has a sharp, very stout spine.

RANGE: Upper Sonoran Desert of Arizona and Sonora and hence into higher elevation Interior Chaparral and Piñon-Juniper vegetation types. These plants can regenerate after range fires that are not too hot.

FLOWERS: Large white flowers with six waxy sepals are borne in large spikes near the top of the plant. Unlike the agaves, it will bloom repeatedly year after year.

FRUIT: Oblong fleshy capsule with three valves. 10 to 20 cm.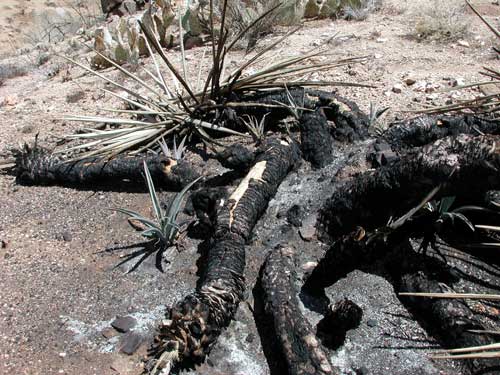 This plant was putting forth new, green growth after an extensive range fire in the western foothills of the Four Peaks, eastern Maricopa County, Arizona.
Agavaceae -- Agave Family
More Information: