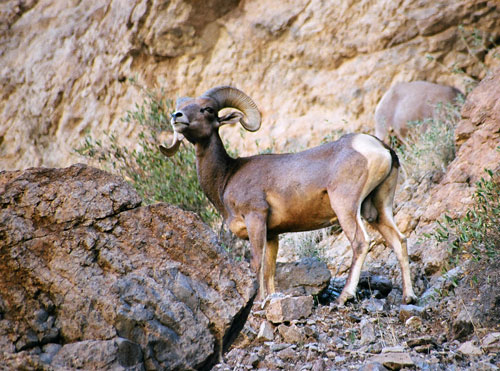 This wonderful photograph was submitted to arizonensis.org by Sam S. He took the photograph as he was kayaking on Canyon Lake, Maricopa Co., Arizona. Spring 2008. The dark green shrub just ahead and behind the sheep is Jojoba -- Simmondsia chinensis.
Human activities have been the biggest threat to these magnificent mammals in the Sonoran Desert. Hunting of course. Although now hunting is closely regulated and helps through license fees to support active management by the Arizona Dept. of Game and Fish. A more significant threat is the grazing of sheep and other bovines in preferred bighorn habitat and the resulting transmission of diseases between them. Finally, humans have negatively impacted the availability of water by diverting the rivers and overdrawing ground water. Development of water tanks and reintroductions by game and fish departments have been vital to recovery of this mammal.
The population of Bighorn Sheep in the deserts of southwestern United States have, by some authorities, been recognized as subspecies nelsoni.
Bovidae -- Cattle, Sheep & Goat Family
Sponsored Links:
More Information:
Reference: Mammals of Arizona (1986), D. F. Hoffmeister, Univ. of Arizona Press.