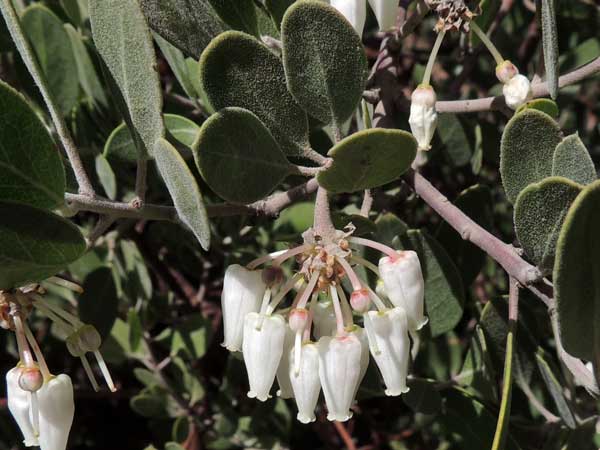 Adjacent to upper Sycamore Creek, Mazatzal Mts., Maricopa Co., Arizona, USA. September 2013.
Sponsored Links: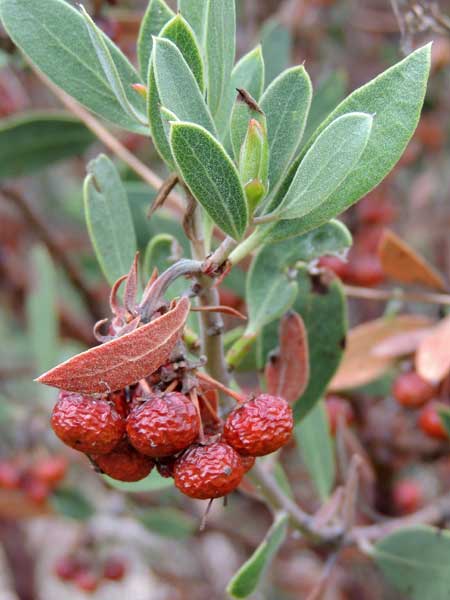 Ripe fruit observed in Florida Canyon, Sta. Rita Mts., Arizona. July 30, 2013.
SHRUB: Evergreen shrub up to 3 m tall. Woody branches with smooth red bark.

FLOWERS: Groups of pendulous, urn-shaped flowers are white or pale pink.

LEAVES: Leaves are simple, smooth-margined, alternate. Young leaves covered with short hairs that get rubbed off with age.

RANGE: Distributed mostly in chaparral and piñon-juniper habitats but also on drier soils within sycamore woodlands.

FRUIT: Spherical, orange-red berries with several seeds.

UNARMED. However, the intricate branches are very stiff and readily repel penetration.
Ericaceae -- Heather Family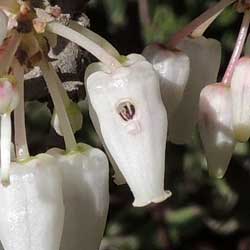 This flower has a neat little hole cut into the side of the urn-shaped corolla. A bee made it to get at the nectar in the base. The tongue-like mouthparts of many bees are simply not long enough to reach into the open top. By robbing the nectar this way the bees are bypassing the pollination mechanism.
More Information:
Sponsored Link:

Manzanita Gall Aphid
Bright red galls on leaves of Manzanita contain aphids in the genus Tamalia. More ...