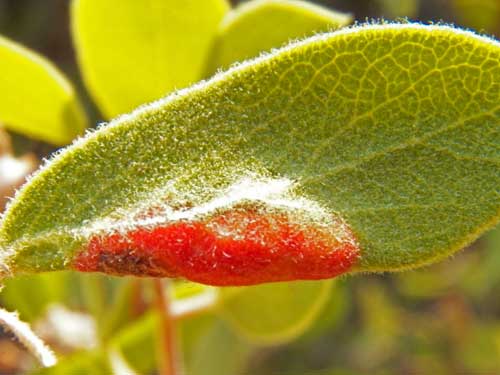 Gall on the margin of a leaf of Point-leaf Manzanita, Arctostaphylos pungens, in Devil's Canyon, Pinal Co., Arizona. 20 June 2012.
Sponsored Links: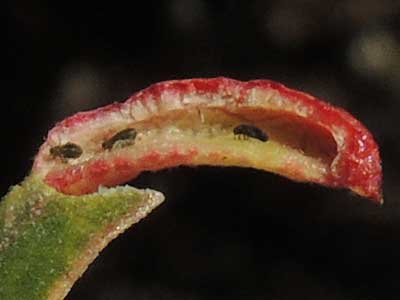 The cut-open gall above was found 17 Jan. 2015 at Sycamore Creek, Mazatzal Mts., Maricopa Co., Arizona. The aphids remain sheltered inside through sub-freezing temperatures. The red color, I have found, attracts birds that break open the gall and eat the aphids plus accumulated honey dew. But the red pigments also could serve the aphids by blocking harmful sun rays.
Subsequent generations of these wingless females will be winged and thus able to disperse to new plants. The aphids begin on new, freshly growing leaves. Secretions by the aphid(s) induce the leaf edge to expand abnormally into a cavity that encloses them, and lose its chlorophyll - leaving the red pigments. The life histories of Tamalia aphids are much varied between manzanita species; it seems likely that there are many sister species yet to be discovered.
Aphididae (s.f. Drepanosiphinae) -- an Aphid Bug Family
More Information:
Sponsored Link: