Funnel Spider
Agelenopsis

Medium to large sized spiders that use a trampoline-like sheet web with a distinct funnel retreat in one corner. Several common species. More info
Desert Tarantula
Aphonopelma sp.

Giant hairy spiders emerging from hidden burrows in late summer. Found walking along roads and washes. More info
Giant Crab Spider
Olios fasciculatus

Large wandering spiders that can climb walls and ceilings. Long legs and small eyes. No web. More info
Fishing Spider
Dolomedes triton

Robust spiders with long legs and without a web. Dives into shallow pools to capture small fish and aquatic insects. Remains near water. More info
Littoral Wolf Spider
Arctosa

Cursorial (running) spiders that hunt on moist sand along flowing desert canyon bottoms. More info
Green Lynx
Peucetia viridens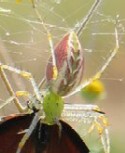 Large, mostly greenish spiders that hunt on and near flowers without a web. More info
Crab Spider
Misumenops deserti

Small to medium sized sit-and-wait predators often on flowers. No snaring web. Crawls sideways. More info
Lynx Spider
Hamataliwa sp.

Cryptic brown or gray spiders that hunt on trees or shrub bark without a web. First two pair of legs rotated slightly to face forward. More info
Phidippus Jumping Spider
Phidippus californicus

Active, diurnal spiders that jump after prey. Base color black and marked with red or salmon. More info
Jumping Spider
Thiodina sp.

Active, diurnal spiders that do not use a web for prey capture. Instead use stealth and good vision to hunt prey. More info