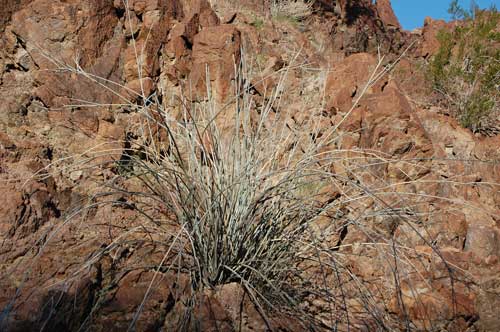 White-stemmed Milkweed, Asclepias albicans, observed in the Muggins Mountain Wilderness, Yuma, County, Arizona, USA on 31 January 2010.
Sponsored Links:

SUCCULENT: Similar to Desert Milkweed (Asclepias subulata) but with smooth wand-like stems much taller and thicker in diameter. Leafless stems are blue-green in color and rise sometimes well past 2 meters. The lower portions of the stems are woody.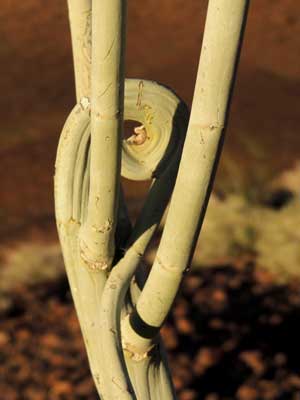 RANGE: Generally restricted to far southwestern Arizona where hard freezing temperatures are rare. Western Maricopa and Yuma Counties. Also found in Southern California, Sonora and Baja California, Mexico.

LEAVES: A few linear leaves may be seen at growing tip of stems, but are soon deciduous leaving the plant essentially leafless.

STEMS: When injured the stems exude copious milky latex. The cortex of the stems conducts required photosynthesis.

FRUIT: Pods with wrinkled-looking valves. The seeds are comose for wind dispersal. Dried pod valves hang onto the stems for many months after the seeds have dispersed.

FLOWERS: Five-poined, star-shaped, green or white, borne in umbels of 8 to 15 flowers at the terminus of the stems. The flowers are slightly smaller than those of Asclepias subulata

UNARMED.
Asclepiaceae -- Milkweed Family
More Information: