Introduction
When approaching this little-visited mountain range east of Yuma, Arizona, ones first impression might well be that it is a place of extreme desolation, barren of life, and lacking beauty. Yet when the Arizona Naturalists conducted a field trip on the last weekend of January 2010 flowering shrubs, birds, butterflies and mammals were all about. After dusk a great number of moths were on the wing visiting flowers and laying eggs on their host plants. True, visiting during the hottest summer months (May through September) is probably ill-advised.
Most flowers and the thickest vegetation was found along the washes and canyons that slice through the range. These canyons offer the easiest routes through the very rugged terraine with sheer verticle cliffs of mostly easily erodable volcanic rhyolite and tuff. View the area on Google Maps.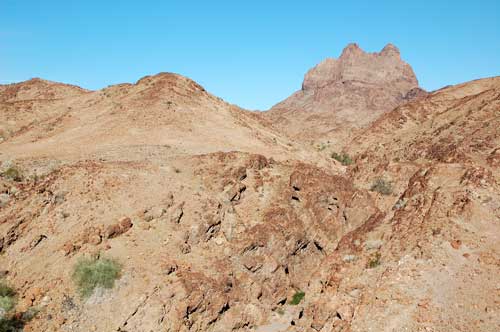 This view of the Muggins Mountains is from the west near the trail head at Couty 7th Street. Access is available from Exit #21 off I-8 at Ligurta. Follow Dome Valley Rd. to County 7th Street and turn east (right). After the closed transfer station the road is narrow and may require a high clearance vehicle. Detailed directions available at the US BLM: more info.