Chronicle By Month
Sponsored Links: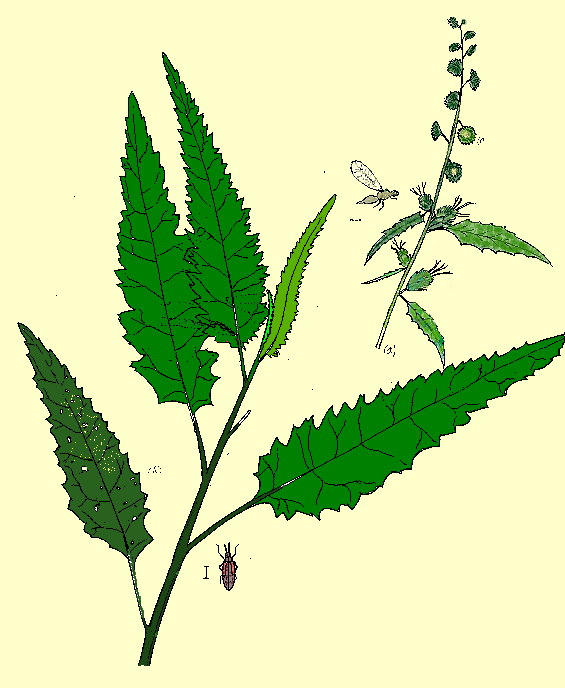 Canyon Ragweed (Ambrosia ambrosioides) is one of my favorite backyard plants. It grows as a robust herb or slightly woody shrub. Usually about 1½ meters tall, 2 to 3 meters broad, and with 10 to 50 main branches arising from the crown. The leaves, which have a pungent tarragon-like odor, are coarsely toothed along the edges. Among the many kinds of insects that use this plant are a small red black Hispine leaf beetle, and fruit flies (Tephritidae). The flies lay eggs in the developing seed heads where the larvae feed. Verdins and other insectivorous birds visit the Canyon Ragweed in search of insect prey on a regular basis. The seed matures into a prickly burr.
Introduction
I live near the center of Phoenix, a large metropolitan area with a population in excess of 3 million where I am close to work, entertainment and shopping. My commute to work averages twenty minutes. (If you are like many commuters try this math: Spend two hours commuting each day @ five days a week x the Number of Weeks in Your Lifetime. That equals a whole lot of time spent burning a non-renewable resource (gasoline), risking your life, and basically accomplishing nothing!).
I live in a townhouse community with a back yard is quite small. A concrete patio slab measures 4½ m by 2 m. Surrounding that is the soil which actually only covers another 10 m2. Considering that, the yard flourishes with quite a variety of desert trees and shrubs mostly grown from seed and now way overgrown. Excessive shade has become a problem preventing some full sun plants from blooming.
Wildlife Garden
Sponsored Links: