Chronicle By Month
Sponsored Links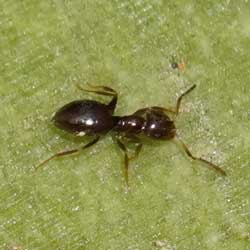 Rover Ant

Bear-trap Ant
Fascination of Ants in a Phoenix, Arizona, Garden
Surprisingly, my small plot is home to at least 8 species of ants:
What these ants lack in size, they make up for in numbers, pugnaciousness, and speed. They measure a bit longer than 2 mm in length and are amber colored. Actually their colony isn't in my yard at all, but rather past my gate and way over by the community trash bin, a distance of some 20 m! These guys like it hot, foraging during the day, often when the temperature is above 40° C. In fact they didn't show up in my yard at all until the daytime temperature was exceeding 32° C, which was mid-April. Before nightfall they all return to their nest. From their nest they travel fast in nearly single file. Rubbing your finger across the path will confuse them greatly. Soon a traffic jam will pile up where you wiped their scent trail away and added your own! Eventually they will venture across your invisible barrier. Without stooping down you should be able to see the columns of ants, and you should notice as well that the path itself is visible as a clean, shiny, ant-highway. If you tap one of these ants under your finger, you will find a definite, pungent odor on your finger. This is a gas that Dolichoderine ants spray in defense of their nests and food discoveries.
These ants feed especially on tiny insects, pollen and nectar robbed from flowers, and honeydew secreted by whitefly nymphs. They scavenge what people drop, seeming to prefer greasy or protein items. They also engage smaller ant colonies in battle, plundering nest contents like food stores, ant larvae and pupae. They also raid bees' nests.
These ants have a sting every bit as painful as the Imported Fire Ant. Abundant in lawns and landscaping schemes throughout metro-Phoenix. If your foot or lawn chair is disturbing them, they will climb upon an exposed toe or ankle and sting. It's a true stinger, located at the tip of the abdomen. The welt may hurt for several days, but does not get pussy like the stings of Imported Fire Ants (now ranging beyond Texas to South Carolina). They are nearly black in color (usually) and range in size from 2 to 4 mm. And that's a good clue to their identification: looking closely you will see two distinct sizes of rather slow moving ants. The majors, as the larger ones are called, are outnumbered by the smaller ones. Native Fire Ants prey on other insects, which they subdue with a sting, but mostly prefer dead or moribund ones. They are able to find food through an extraordinary sense of smell, quickly arrive at dropped food items, and occasionally invade homes and restaurants. They also take nectar and pollen from flowers. During the hot months these ants forage at dawn, dusk, and at night.
These ants are 2 mm long and pale tan or light brown in color. Superficially similar to Forelius, but they move about much slower and prefer the cooler times of the day or night to be out foraging. They too prey on small insects and spend a lot of time gathering honeydew. Extra Floral Nectaries (specialized glands found on many plants) are a favorite feeding spot. Paratrechina use formic acid as a defense, spraying the chemical from a pore at the tip of their abdomen. They stay in their nest when temperatures are too hot and very often forage beneath rocks or leaves.
These nearly black ants are very small, barely 2 mm long. They quietly move in loose columns up and down the trunks of trees and other plants. Essentially every Olive Tree around Phoenix will be found to have a resident colony. They are found nearly everywhere in the USA, often in greenhouses, where they especially look for honeydew given off by leafhoppers, aphids, and scale insects. Unless you look close you probably won't notice them at all.
These jet-black ants are also very small, < 2 mm long. They may crawl slowly along the pavement or soil surface, but most of them forage in the Blue Palo Verde tree. They carry a sting but are too small to inflict it upon a human. They prey on small insects.
This and the next ant species are very small, less than 3 mm, and never leave the soil layer. A magnifier or microscope would be necessary to see any detail on this nearly black Ponerine ant which is essentially blind. They are most abundant in the Compost Heap where they prey on minute insects, mites, and other arthropods. This one has a potent stinger, but it's too small even to pierce human skin. Instead the sting is used to subdue prey.
Besides its minute size, it is also so pale as to be nearly transparent. Only under a microscope can one appreciate this ferocious hunter. The mandibles are drawn out into long ice tongs with needle-sharp tips. The need for such weapons becomes apparent upon learning the usual prey: Springtails. Springtails are insects, so they have six legs all right, but they have an extra appendage called a furcula, folded beneath their abdomen, that functions as a catapult. When disturbed they let go with it, and spring into the air a centimeter or more...impressive for a body length less than 1 mm. Strumigenys defeats this by lifting the springtail into the air where the furcula has nothing to spring against! The ant delivers a potent sting, and just waits for the venom to take effect. All this action takes place beneath the soil, hidden from view.
I was really excited to find today (Aug. 10, 1997) that this really cool ant had set up a colony in my yard. It hunts with its very long, front-facing mandibles held open wide. When it bumps into prey, the mandibles snap shut like a bear trap (loud enough to hear!!). Update (Feb 2001): The Odontomachus colony is still flourishing and has grown to a good size; I am finding these large ants, 9 mm, foraging all about my patio area through 2001. The gaster is dark brown while the remainder of the ant is a rich reddish brown. The founding queen is now at least four years of age. They sometimes feed at fruit rinds that I put in the compost heap and also prey on gnats there. Under the microscope I find that the worker ants all have many (20 to 40) parasitic mites (0.1mm) attached to their integument.
Wildlife Garden
Yard Birds Sponsored Links



Forelius Ant

Native Fire Ant