Birds
Mostly in order of abundance. Click on hyperlink for a detailed description and photo.
Mourning Dove -- Zenaida macroura
-- S,F,W,Sp -- Large numbers can be seen browsing in the lawn just in front of players on the driving range with balls wizzing over their heads!
European Starling -- Sturnus vulgaris
-- S,F,W,Sp -- Especially common on the golf course.
Northern Mockingbird -- Mimus polyglottos
-- S,F,W,Sp --
Cliff Swalllows -- Sp,S -- abundant near canals and ponds by mid spring.
Black-crowned Night Heron -- S,F,W,Sp -- quite a population of these birds inhabit the pond areas and can be seen heading to and from roosting areas at dawn and dusk.
Verdin -- Auriparus flaviceps
-- S,F,W,Sp -- Tiny birds, barely larger than a hummingbird. Gray/brown with a majestic yellow head.
House Finch -- Carpodacus mexicanus
-- S,F,W,Sp -- Males have conspicuous red on head and upper chest
Mallard -- Anas platyrhynchos
-- S,F,W,Sp -- the most common duck after the migrants have left.
Great-Tailed Grackle -- Quiscalus mexicanus
-- S,F,W,Sp -- common on grassy areas and near water.
Anna's Hummingbird -- Calypte anna
-- S,F,W,Sp -- Common. Green back; forehead and throat of males magenta.
Loggerhead Shrike -- S,F,W,Sp -- all year, but more common in winter than in summer
Black-tailed Gnatcatcher -- Polioptila melanura
-- S,F,W,Sp -- so tiny and so animated!
Black-throated Sparrow -- Amphispiza bilineata
-- S,F,W,Sp -- Lovely birds with a jet-black throat and bib contrasted by bright white eye brows. Beautiful singers. A very nice description of the black-throated sparrow can be found at Twentynine Palms Cyberzine (California).
Gambel's Quail -- Callipepla gambelii
-- S,F,W,Sp -- quite a number use the riparian-like habitat near golf course.
Brown-headed Cowbird -- Molothrus ater
-- S,F,W,Sp -- lays its eggs in other birds nests.
Lesser Nighthawk -- Sp,S -- common but flies at dusk catching insects mid air.
Cactus Wren -- Campylorhynchus brunneicapillus
-- S,F,W,Sp -- not averse to foraging on picnic table scraps.
Curve-billed Thrasher -- Toxostoma curvirostre
-- S,F,W,Sp --
Phainopepla -- Phainopepla nitens
-- F,W,Sp --
Brewer's Sparrow -- W,Sp -- many find the golf course perimeter to their liking. They also eat the tender new bean pods of the foothill palo verde.
Common Raven -- Corvus corax
-- F,W,Sp -- may claim ownership of the Hole in the Rock summit
Black-throated Gray Warbler -- F,Sp -- mostly only during spring migration (April)
Black-bellied Whistling-Duck -- Dendrocygna autumnalis
-- S -- on ponds
Neotropic Cormorant -- S,F,W,Sp -- on ponds
Belted Kingfisher -- Megaceryle alcyon
-- W -- on ponds
Peregrine Falcon -- S,F,W,Sp --
Peach-faced Lovebird -- Agapornis roseicollis
-- S,F,W,Sp --
(includes observation made by Jim Burns)
Map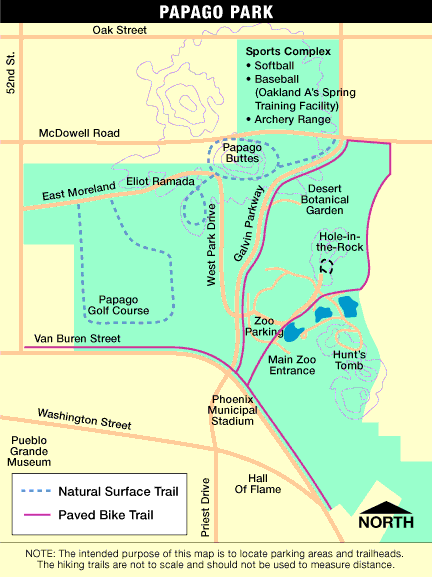 Adapted from Phoenix Parks & Rec. Map.