Introduction
If you happen to be traveling Interstate-10 in June or July and stop even briefly at Quartzite you might wonder how this could possibly be anyone's destination. For sure, in summer daytime temperatures are normally well above 40 °C making comfort hard to find. But for 5 or 6 months of the year the weather in this western Arizona town is sunny and close to perfect every day. Tourists and semi-retired snow birds flock here for the winter months and the nearly-free camping available on nearby BLM lands. Giant swap meets and rock and mineral shows provide the majority of entertainment. Many visitors are delighted to venture off into the hills for some rock hounding or simply to explore the vast Sonoran Desert environment.
Google Terrain Map
use controls to zoom or navigate
Link Below for Larger Map
View Larger Map
. Quartzite town is indicated by the blue balloon. Northeast of town, the trekking icon locates the Plomosa Mountains. Twelve miles south of Quartzite off Hwy. 93 another hiker icon locates Palm Canyon in the
KOFA Mts
.
Directions
From the Phoenix area head west on I-10. The town of Quartzite is just 16 miles from the California border. To reach the Plomosa Mountains exit at Gold Nugget Road, 10 miles east (i.e. before arriving at Quartzite), exit #26, then turn north. A gravel road leads directly into the mountain range - high clearance vehicle recommended.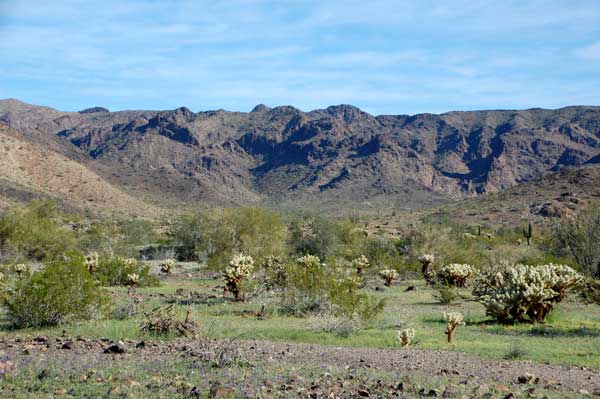 The Plomosa Mountains are northeast of the Quartzite townsite. Photographed Mar. 1, 2009.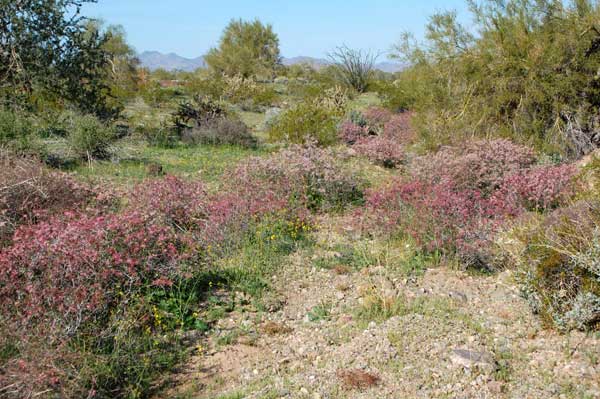 A wash near the Plomosa Mountains ablaze with Fairy Duster bushes. The yellow-green trees are Foothills Palo Verde and the dark green tree at far left is ironwood. Photographed Mar. 1, 2009.