Field Trip: Aug. 28-29, 2016
The summer monsoon season for 2016 was sporadic and fitful. Several storms with substantial rain had watered this area followed by weeks without any rain. Ocotillos and palo verdes were in full leaf, but very few annuals had succeeded in growing robustly. Summer poppies (Kallstroemia), for example, were nowhere to be seen. Woody shrubs and especially the cacti are well adapted to deal with this precipitation regime. Many Fishhook Barrel Cactus had grand crowns of open red, yellow or orange flowers. It was hot and pretty humid, but every time I came upon another barrel in bloom I was glad to be out. I drove the loop drive where many visitors were bicycling or running. Otherwise crowds were scarce and most pullouts offered desert beauty and solitude. Paper flower and desert senna were in full bloom with bright yellow flowers. See the summer wildflower list below.
The following morning, Aug 29th was a Monday and I was surprised that the 20 or so parking spots on Broadway Mica Trailhead were filled at 6 a.m. It was a gorgeous morning with pleasant temperatures before 10 a.m. The Mica Trail is wide, level and smooth and thus easily walked by all. Birds, wildlife and all the cactus species were easily observed. The only annoyance was the number of Hippelates flies. These small insects are known also as eye gnats for their habit of gathering at the eyes and nose seeking a bit of moisture. The do not bite, but also pay little heed to insect repellant. Also seen were the workings of encrusting termites, a kind that never damages human dwellings. It is about a kilometer (less than a mile) from the trailhead to the Mica View picnic area on the loop drive. Hikers from the Broadway entrance should have a paid park entry.
Eye Gnats

Encrusting Termites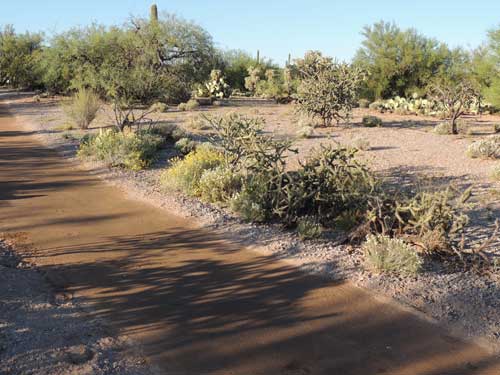 Mica View Trail at Saguaro National Park. The bigger tree at left rear is velvet mesquite, cacti are Engelmann Prickly-pear, Staghorn Cholla, and in the far back Chain-fruit Cholla. Blooming yellow flowers are Paper Flower and the white flowers are Desert Zinnia.