Birds
In general order of Abundance:
Rock Wren -- Salpinctes obsoletus --

S,F,W,Sp

White-crowned Sparrow -- Zonotrichia leucophrys --

W,Sp

Black-throated Sparrow -- Amphispiza bilineata --

S,F,W,Sp

-- more common in winter
Gambel's Quail -- Callipepla gambelii --

S,F,W,Sp

Ruby-crowned Kinglet -- Regulus calendula --

F,W

Verdin -- Auriparus flaviceps --

S,F,W,Sp

House Finch -- Carpodacus mexicanus --

S,F,W,Sp

Canyon Towhee -- Pipilo fuscus --

S,F,W,Sp

Ladder-backed Woodpecker --

S,F,W,Sp

Black-tailed Gnatcatcher -- Polioptila melanura -- so tiny and so animated! --

S,F,W,Sp

Yellow-rumped Warbler -- Dendroica coronata -- at the tank --

W,Sp

Black Phoebe -- Sayornis nigricans -- also at the tank --

S,F,W,Sp

Gilded Flicker --

S,F,W,Sp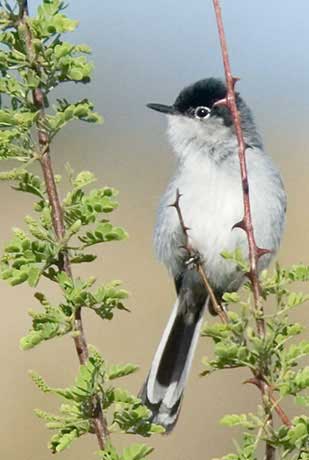 Photograph is copyrighted by Robert Shantz at Lower Steeple Rock Canyon, Hidalgo County, New Mexico. This male has a distinctly black cap. Females lack the cap, and during the winter months the male's cap fades away.