Arizonensis --> Sonoran Desert Naturalist --> Sonoran Desert Places --> Box Canyon
Wild Flower Report ¦ Field Trip Reports ¦ Butterflies ¦ Birds ¦ Map
Box Canyon & Mineral Mountain
Florence - ARIZONA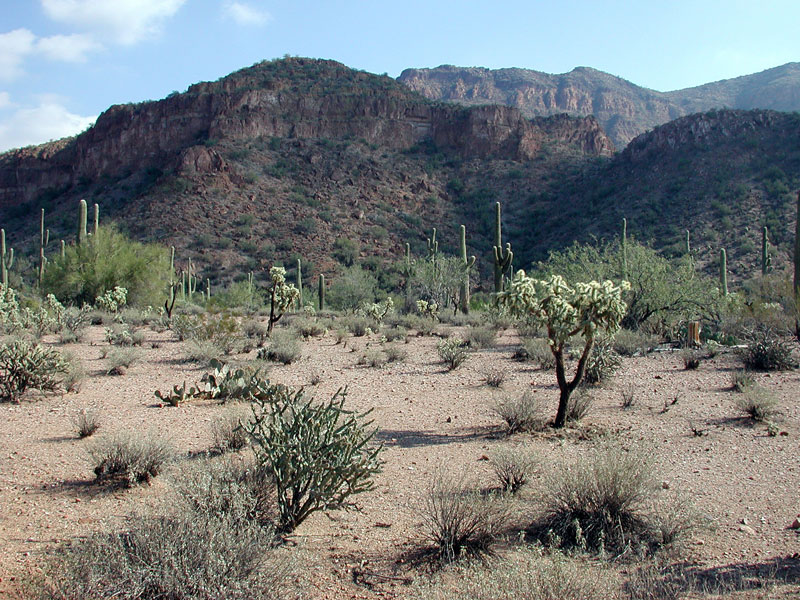 Mineral Mountains in central Arizona, USA, as viewed from south of Box Canyon. Principal vegetation type throughout the range is Upland Sonoran Desert Scrub. This photo is hosted at Wikimedia where more images of the Sonoran Desert can be found. The cholla cactus at front center is Buckhorn Cholla, the tree-like cholla at right center is Chain-fruit Cholla, the yellowish-green tree at left-rear is Foothills Palo Verde, and there are a number of stately Saguaro Cactus visible in the photo.
Mineral Mountain is a rugged area south of Superior, Arizona, that stretches southward to the edge of the Gila River. Box Canyon drains to the south into the Gila River. The relatively soft volcanic rhyolite, tuft and sedimentary rock has eroded into deep canyons and tall, spectacular spires. Because the rock is porous and holds/ releases moisture well, the flora is particularly lush and diverse. Ledges and block walls are like hanging gardens.
The drive along the Gila River will take you past a small pecan grove and agricultural fields that attract a number of birds with winter the best season. See road map just below and topo map at this link. In the topomap you will see Martinez Canyon running up to the east. This canyon with it's riparian stretch is also well worth a naturalist's attention.
---
Common Birds

Bell's Vireo -- Vireo bellii -- Sp,Su
Mourning Dove -- Sp,Su,F,W
Gila Woodpecker -- Melanerpes uropygialis -- Sp,Su,F,W
Hooded Oriole -- Icterus cucullatus -- Sp,Su
Common Raven -- Corvus corax -- F,W
Cactus Wren -- Sp,Su,F,W
Curve-billed Thrasher -- Sp,Su,F,W
Northern Cardinal -- Cardinalis cardinalis -- Sp,Su,F,W
Black-tailed Gnatcatcher -- Polioptila melanura -- Sp,Su,F,W
Phainopepla --F,W
White-throated Swift -- Sp,Su
Turkey Vulture -- Cathartes aura -- Sp,Su,F
Ruby-crowned Kinglet -- Regulus calendula -- Sp,F,W
Red-tailed Hawk -- Buteo jamaicensis -- Sp,Su,F,W
Lesser Goldfinch -- Carduelis psaltria -- Sp,Su,F,W
Verdin -- Auriparus flaviceps -- Sp,Su,F,W
Black-throated Sparrow -- Sp,Su,F,W
Rock Wren -- Sp,Su,F,W
Canyon Wren -- Sp,Su,F,W
White-crowned Sparrow -- Zonotrichia leucophrys --F,W
Costa's Hummingbird -- Calypte costae -- Sp,Su

Map of Box Canyon and Vicinity


View Larger Map

Directions: Drive north from Florence, then just after crossing the bridge over the usually dry Gila River, turn east on Price Road. Signs point the way into Box Canyon. At times large numbers of four wheel drive enthusiasts use the canyon bottom as a roadway and cause environmental damage. The deep sand offers a challenge, but will quickly mire a passenger car. One can hike up the canyon with ease and there are plenty of side canyons to get you away from any traffic you might encounter.
Sponsored Links
---
Yet another mild winter in the Sonoran Desert has resulted in many plants still green and blooming. Even frost-sensitive ironwood and acacias have only light frostbite on exposed leafy branches. Among the plants found blooming included Creosote Bush, the beautiful Snap Dragon Vine (Maurandella antirrhiniflora), Desert Honeysuckle (Anisacanthus thurberi), Desert Milkweed (Asclepias subulata), Sweet Bush (Bebbia juncea), Desert Mistletoe (Phoradendron californica), Arizona Cottontop (Digitaria californica), and Gila Rock Daisy (Perityle gilensis). The Desert Hackberry (Celtis pallida) and Hopbush (Dodonea viscosa) growing along the washes were vibrant green and impresively large and robust. Walking along the jeep road required frequent avoidance of speeding recreational ORV's.
---
Sponsored Links
---
Sponsored Links
Butterflies too!
Leilia Hackberry Butterfly

Queen

Painted Lady

Marine Blue

Checkered White

Red Admiral

Pipevine Swallowtail

Snout Butterfly

Funereal Duskywing

Southern Dogface
---
Sonoran Desert Naturalist Home Page

Desert Places

Field Guide
---