Birds
In general order of abundance:
Gambel's Quail -- Callipepla gambelii - S,F,W,Sp
The after-burn habitat seems to be very favorable to these birds.
White-crowned Sparrow -- Zonotrichia leucophrys F,W,Sp
common to abundant winter birds with conspicuous white-striped head.
Verdin -- Auriparus flaviceps - S,F,W,Sp
Tiny birds, barely larger than a hummingbird. Drab gray brown with a majestic yellow head.
Rock Wren -- Salpinctes obsoletus - S,F,W,Sp
Very common little birds which frequently give spirited high pitched trills while perched atop prominants. Their drab gray and brown color blends perfectly with the desert colors.
Mourning Dove -- Zenaida macroura - S,F,W,Sp
House Finch -- Carpodacus mexicanus - S,F,W,Sp
Gila Woodpecker -- Melanerpes uropygialis - S,F,W,Sp
White-winged Dove -- Zenaida asiatica - S
Black-tailed Gnatcatcher -- Polioptila melanura - S,F,W,Sp
Phainopepla - S,F,W,Sp
Gilded Flicker - S,F,W,Sp
Canyon Towhee -- Pipilo fuscus - S,F,W,Sp
Curve-billed Thrasher -- Toxostoma curvirostre - S,F,W,Sp
Costa's Hummingbird -- Calypte costae - Sp,S
Common Raven -- Corvus corax - W,Sp Conspicuous, large, jet black birds that soar above looking for food.
House Sparrow -- Passer domesticus -- S,F,W,Sp
Black-throated Sparrow - S,F,W,Sp
Cactus Wren -- Campylorhynchus brunneicapillus - S,F,W,Sp
Northern Cardinal -- Cardinalis cardinalis - S,F,W,Sp
Say's Phoebe -- Sayornis saya- S,F,W,Sp
Brewer's Sparrow - W,Sp
Violet-green Swallow- Sp
American Kestrel -- Falco sparverius S,F,W,Sp
Cooper's Hawk -- Accipiter cooperii F,W,Sp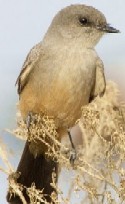 Say's Phoebe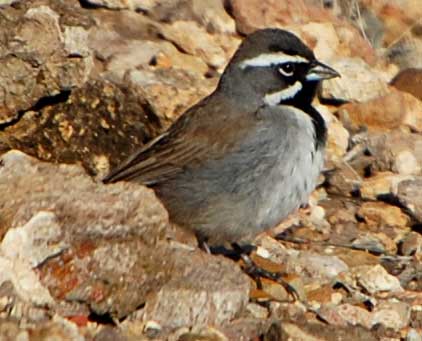 Black-throated Sparrows have distinctive facial markings.